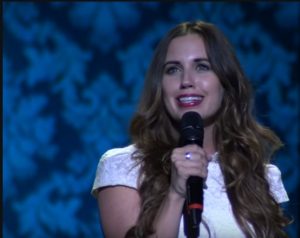 On Friday evening, 16 June 2017, the third night of preliminary competition for the Miss Utah Scholarship Organization held at the Capitol Theatre in Salt Lake City, Utah, members of the Miss Utah Judges Panel took to the stage during round two to share one of their talents. The audience was wowed by a special performance of "For Good" from the hit Broadway musical Wicked. The musical number was sung by Jessie Clark Funk – 11-time FCMA winner and motivational youth speaker – and Nikki Bohne Lloyd – who starred as Glinda, the Good Witch of the North, in the National Broadway Tour of Wicked.
Funk and Lloyd sang the duet as a tribute to the contestants. Lloyd commented, "We just wanted to dedicate this tonight to the girls competing and for all their hard work and hopefully the friendships that they've made that will last a lifetime." Funk sang the part of Elphaba, the Wicked Witch of the West, and Lloyd sang the part of Glinda.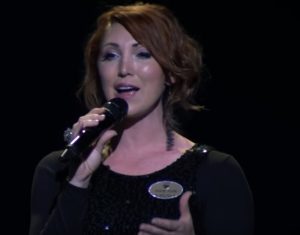 According to Deseret News, Jesse Clark Funk became a rising pop star at the age of 14 when she signed with an independent affiliate of Sony Records. After a brief four-month stint, she decided that being a pop star was not for her. However, her musical career was far from over as new doors of opportunity began to be opened for her. At the age of 16, she was hired to be a part of a themed compilation CD. Soon after, she began working with the Sounds of Zion Company. Her albums "Clay in His Hands" and "You Know Better Than I" earned her 8 FCMA Peal Awards. Her other albums include "Everything Speaks His Name" (2007), and "Be Thou an Example: 2009 Songs for Youth" (2008).
Funk is content in knowing that by remaining on the straight and narrow path in life, she has been kept from a lifestyle that so many Hollywood artists have chosen. She knows how to keep her priorities in order by placing her family and faith first in her life, with her music career being next on the list. Today she is a wife, a mother, an inspirational vocalist, motivational youth speaker, and author. She is also the Executive Director of the Non-Profit organization Ivy Girl Academy which according to the website description, provides elite leadership training for teen ladies.
Jesse Clark Funk is an exemplary role model to many youth who live through a turbulent time, but who are also equipping themselves with gospel power through Christ-centered lives as they strive to walk in faith and purity daily, repenting and growing.