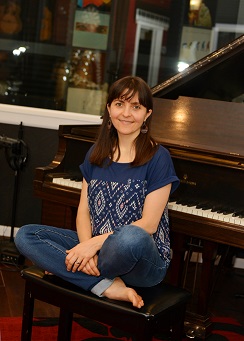 Amanda Dangerfield is a pianist and a lifelong member of The Church of Jesus Christ of Latter-day Saints (often mistakenly referred to as the "Mormon Church"). She makes family-friendly videos (no swears) showing piano playing or talking about music, faith, health, veganism or other topics. She is a Yakima, Washington, MusicMaster piano teacher and wedding pianist, but most importantly she is a wife and a mother.
At the age of 18, Amanda composed and notated "A Small Miracle" for a Reflections contest at school. She later played the song, "A Small Miracle," at her wedding reception in 2004, which can be seen in the video below. The footage in the video is by Advanced Images in Salt Lake City, Utah. In December 2017, she professionally recorded her original piano composition, "A Small Miracle," along with her first composition (age 14) and some cover songs.
Amanda Dangerfield's piano solo album, A Small Miracle, is available on all music streaming and download services, including iTunes, Apple Music, and Spotify. A physical copy of the CD can be purchased from her official website, or if you happen to be in Yakima, Washinton, you can purchase a copy at Taylor Music or Off The Record. Here's what one Amazon review says about the album, "This is a wonderful selection of charming, uplifting tunes, both new delights, and beloved past hits! It's a great change from so much of the drivel we hear these days and beautifully executed. Puts you in a different world!"
Amanda loves homeschooling, whole food plant-based nutrition, learning, laughing, and exercise, and is grateful for those who #sharegoodness and #lighttheworld all year round! You can follow her on social media – Instagram, Facebook, Spotify, and YouTube.