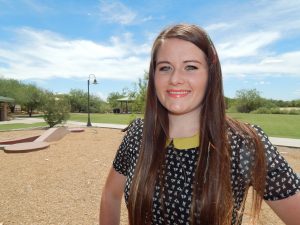 Courtney Cotter King is a piano-driven singer-songwriter from Mesa, Arizona. She began playing piano at the age of three and has produced and recorded three albums. She began writing music in seventh grade, eventually attending a summer program at Berklee College of Music and studying audio production and performance at Mesa Community College.
Courtney is a member of The Church of Jesus Christ of Latter-day Saints and loves to write uplifting, positive music that aligns with her beliefs. Artists who have inspired her music include Stevie Wonder, Fiona Apple, and Tori Amos.
Speaking about Courtney's music, marmosetmusic.com states that piano-driven arrangements "informed by classical and jazz come off effortlessly, evoking both early 70s Stevie Wonder and 90s Tori Amos." Courtney's music is referred to as being smart, soulful, and surprising, and her tunes are said to "easily marry sound with the story." Her vocals are compared to The Cranberries' Dolores O'Riordan, Frou Frou, and Regina Spektor.
Courtney has been playing her mix of original songs and classic covers at numerous venues in the Phoenix, Arizona, area for some time and has come to dominate the singer/songwriter scene. According to thebash.com, "She commands a room with merit for listening." David Hilker, CEO of Fervor Records, told the Phoenix New Times, "Musically, she is a triple threat: an excellent pianist, exceptional vocalist, and extraordinary songwriter. She commands a deep understanding of how to emote via all three." ReverbNation.com proclaims, "Courtney's artistry at the piano drives her songs with a compliment of strings and agile sultry vocals that shoot straight to the soul in a masterful blend of indie, jazz and classical influences." And Fervor Records co-owner Jeff Freundlich has said, "Rare is the 21-year-old with the ability to articulate musically and lyrically in a profound way."
Courtney has been invited on occasion to perform in different states for events such as weddings, wineries, house concerts, street events, restaurants, shows and festivals. She is friendly and genuine and knows how to make a crowd feel comfortable. Her repertoire consists of fun, upbeat captivating songs as well as calm, pleasant background songs. She has covered songs by artists such as James Taylor, The Beatles, Chicago, Feist, Ray Lamontagne and Amy Winehouse.
Fervor Records released Courtney's first album called "My Happy" and a Christmas single called "I Believe in Santa Claus" in 2010. In 2011, the record company released her album called "Home I Roam," and in November 2013, her album titled "Rooftops" was released.
Courtney has said, "I always try to have a purpose in my lyric-writing, and I always want to have it be a source of inspiration. There's a saying, 'True artists inspire art,' and that's what I want to do. I want to inspire others to be happy. Who knows what my music career will bring, but I feel like it's something I was sent here to do on Earth."
No Results Found
The page you requested could not be found. Try refining your search, or use the navigation above to locate the post.