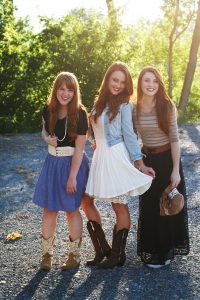 After singing together their entire childhood, three sisters – Melanie, McKenzie, and Madelyn Merchant – decided to start an official band known as Firefly in 2008 when Melanie won a songwriting contest at the Bluebird Café in Nashville, Tennessee. They write, sing, and play Country music. They play cello, mandolin, guitar, keyboards, and the fiddle. Their original and cover songs can be found on iTunes and their YouTube channel.
Firefly created quite a buzz in Country music when they won the Arizona State Country Showdown. They went on to win the Arizona State Title in 2010. Since 2010, the band has been privileged to share the stage with music artists like LeAnn Rimes, Martin McBride, Donny Osmond, Little Big Town, Wynonna Judd, Clint Black, David Archuleta, Pam Tillis, Alex Boyé, and many more.
Firefly is also known for their charity work with troubled youth including the Steve Young Charities Forever Young Foundation programs such as Anasazi Foundation, One Life At A Time, Bridle Up Hope, Sophie's Place, and a charity for refugees that the girls started in 2017 called "Rahama's Relief."
In 2012 the group launched their official YouTube channel which now includes subscribers from all over the world. In 2014 the sisters released their first album of original music self-titled Firefly. Their album contains hit song collaborations with hip hop violinist Lindsey Stirling and The Truman Brothers. Their song "Keep on Loving You" was number one on the TuneCore love song album in 2015.
Firefly's music can be found on iTunes, Spotify, Pandora, and other channels throughout the world. They are best known for their beautiful harmonies and instrumental talents on cello, guitar, mandolin, and piano. Because of their gorgeous natural red hair and ever fun personalities they are often known for a favorite single written with Taylor Swift's engineer called "Firecracker Red!"
~ a Quote from Firefly:
"As we have grown as musicians and performers our name has taken on a deeper meaning. Just as fireflies light up the night sky, our creator lights our way—to help us become who we are meant to be. Everyone has a light to share—something you can do that no one else can. You are who you are for a reason. You are meant for more than you know."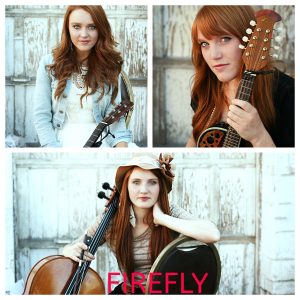 No Results Found
The page you requested could not be found. Try refining your search, or use the navigation above to locate the post.