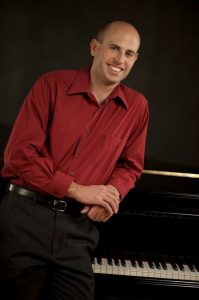 Jason Tonioli (pronounced: toe-knee-oh-lee), a member of The Church of Jesus Christ of Latter-day Saints, is a New Age pianist. He was born in 1979 and raised in Soda Springs, Idaho, and Roy, Utah. He currently resides in Hooper, Utah.
Jason started piano lessons when he was in kindergarten and enjoyed practicing for the first year. Throughout his school years, he had little interest in the piano, other than he did enjoy the fact that girls like guys who can play the piano. He credits his amazing piano skills as being a product of excellent teachers and a mother who refused to let him quit taking lessons. In fact, if it were not for his mother's stern insistence, he would have never recorded or written music.
Jason enjoyed playing piano if he could play what he wanted, and the way he wanted. Oftentimes, he would only play part of what great composers like Mozart, Beethoven or Rachmaninoff had written and make up the rest. His mother and teacher frowned upon changing what was written and scolded him by telling him that when he started writing his own music, he could write and play the way "he thought" it should be done.
As time progressed, he grew to love piano, partly to prove to his mom and teachers that he could write music and play it the way he wanted, and partly because he simply enjoyed playing. Either way, he is very grateful to his mother for winning the "piano war" and refusing to let him quit.
Jason Tonioli has become well-known for his arrangements of hymns. He has recorded seven albums – Piano Hymns, Be Still – Piano Hymns, Christmas Gift, Favorite Hymns, Simple Gifts, Life Reflections, and December Snow. He has also published seven piano solo books, more than 25 free PDF sheet music songs, along with over 75 songs, all of which can be purchased on his website.
On his official website, Jason offers this counsel to mothers and piano students:
To any piano student who has wanted to quit lessons (probably several of you): DON'T QUIT! You'll regret it for the rest of your life. Your teacher and parents really do know what they are talking about when they tell you you'll be glad you kept taking lessons. (Remember, this is coming from someone who told his mom he hated piano for years.) Stick it out and keep practicing. I promise you, you'll be glad you did, and when you get older you'll thank your parents and teachers for not letting you give up.
No Results Found
The page you requested could not be found. Try refining your search, or use the navigation above to locate the post.