The Life and Times of 
Marwenna
 Diame
Marwenna Diame, a member of The Church of Jesus Christ of Latter-day Saints, was born Gwen Isabella Laidlaw in December 1960 in Dumbarton, Scotland, to Marion and James Laidlaw. Her father passed away in 2018 and her mother passed away in 2020. 
She was named after her two grandmothers. Her maternal grandmother's name was Marwenna Gwen, so at the age of 21, she changed her name to Marwenna. She recalls that her dad had told her that originally, they were going to name her Marwenna, but decided on the name Gwen at the last minute. She says, just like Saul of Tarsus' name was changed to Paul once he was converted and became a Christian, she also wanted a new name when she became a member of The Church of Jesus Christ of Latter-day Saints.  
Marwenna attended primary school at Aitkenbar Primary School in Dumbarton, Scotland. She attended secondary school at Dumbarton Academy and attended Clydebank College (now West College Scotland).  
Music has always been a part of Marwenna's Life in one form or another. Her father was a musician and played mandolin and skiffle drums. When she was eight years old, he taught her how to play the guitar. Her grandmother was an accomplished violinist and accordion player, and in the 1920s she was part of the first all-female band in Scotland.  
At the young age of 10, Marwenna performed her first gig, entertaining neighborhood children. At age 15, she bunked school and performed with a few bands. Later she joined the group Carol and the Creations, which was one of the top cabaret bands in Scotland. She sang as a lead singer, a backing vocalist, and a session singer for several years with many bands, including Llyod Cole and the Commotions, Fiction Factory, Waterfront, Sugar Sugar, and John Martyn. She says, "I would have been a pop star if my health had not gotten in the way." 
She has worked in a music shop, a clothes shop, and a bookshop. She was also a waitress, a fingerprint assistant with the Strathclyde police, a wardrobe assistant with the Scottish opera, and a props assistant with the Citizens Theatre. She also had numerous other jobs, including working in a canning factory and as a museum assistant until she discovered she could write songs.  
As a professional songwriter, Marwenna has travelled around the world writing songs for music artists signed to all major record labels, as well as independent record labels, including Universal, Sony/BMG, Emi, Columbia, Wea, Geffen, Parlaphone, Pwl, Telstar, CNR, ZYX, and London Ffrr. A few of the artists that she had cuts and holds for are Boyz 11 Men, Beyonce, Bart Simpson, Westlife, Cliff Richard, Lulu, Dana Winner, Brownstone, Tony Santos, Rita Guerra, David Osmond, Collin Raye, Nathan Osmond, The Osmond Boys, Rich Gibbons, Faith Hill, Elkie Brooks, Damage, Ninja Turtles, Alex Boyé, Awesome, and Thurl Bailey. 
Marwenna's music was first Published by Trinifold Music Limited, which is in London England. Artists include The Who, Led Zeppelin, UB40, Lynyrd Skynyrd, Joan Jett, Chesney Hawkes, and others. Millions of records were sold worldwide.  
She was also published by Pete Waterman of Stock Waterman Aitken, an English songwriting and record producing trio consisting of Mike Stock, Matt Aitken, and Pete Waterman. The trio had great success from the mid-1980s through the early 1990s with artists like Kylie Minogue, Jason Donavan, Bananarama, Rick Astley, Mel and Kim, Donna Summer, and Dead and Alive. They are considered one of the most successful songwriting and producing partnerships of all-time scoring more than 100 UK top 40 hits and selling 40 million records. 
She was also published by Big Life, a record label established in 1987 by Jazz Summers and Tim Parry, for developing the pop duo Wham – George Michael and Andrew Ridgeley. Summers moved on from Wham to work with a long list of successful musicians, including Lisa Stansfield, The Verve, Cold Cut, Soul 11 Soul, Snow Patrol, Badly Drawn Boy, Scissor Sisters, and others. Combined, the artists sold more than 60 million albums and 72 million singles worldwide and amassed more than 100 top 40 charts worldwide.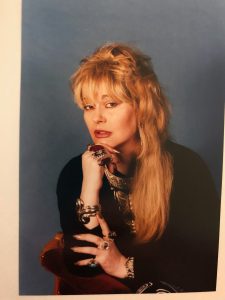 Marwenna's heart and passion have always been music and art, with a special emphasis on music. She loved playing her Violin, Clarinet, Flute, Tin Whistle and Saxophone. She also loved drawing and knitting; However, her health does not allow her to pursue them anymore.  
She now loves reading the scriptures and theology books. She loves history and cosmology and is a quantum physics geek. She is also an animal and nature lover. She particularly loves beaches and says that she always feels nearer to the Lord when she is near an ocean. 
Marwenna has served in the Church as a member missionary, a Sister missionary in Aberdeen, Scotland, a Primary teacher, a Primary secretary, a ward librarian, a Young Women President, and a Branch President's wife. 
Below is a playlist of 11 of the 500 wonderful songs from Marwenna's catalog, which she composed during her lifetime.
Marwenna and her Husband, David Jones, who is also a member of The Church of Jesus Christ of Latter-day Saints, live on the Isle of Lewis off the West Coast of Scotland.