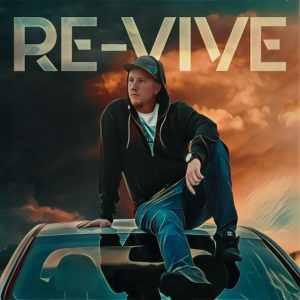 Jake Oaks is a rapper/songwriter who goes by the stage name RE-VIVE. He was born in Provo, Utah, and he is a member of The Church of Jesus Christ of Latter-day Saints.
Music has always been a part of his life as he grew up in a musically inclined family. Both his mother and father, as well as, his siblings play musical instruments. He is also a nephew of "America's Violinist" – Grammy-nominated – Jenny Oaks Baker who made her orchestral debut at the age of eight.
While in elementary school, RE-VIVE tried playing multiple instruments including the trumpet, cello, and piano, but he soon lost interest in the traditional music that he had learned from his upbringing. His high school years proved to be a difficult season of his life but he soon discovered that he had a passion for music. After getting his own stereo, he fell in love with a Hip Hop radio station which became an escape for him. Although faced with a troubling affliction, he discovered a miracle that helped him to develop a relationship with God. It was then that his mind became flooded with lyrics and he eventually started a band. In time, he decided to become a solo act and his stage name was born.
RE-VIVE was shocked by the amount of vulgarity found in a lot of Hip Hop music and became determined to stand out from the norm. In writing and composing his original music and lyrics, not only is there a lack of profanity, but his music is uplifting and inspiring, providing a positive message to a troubled world. The mantra for his band is "Entertain your ears; Inspire your heart."
He has found his writing process to be like what Michael Jackson said about his music in an interview:
If I sit here and play some chords and say, 'I'm going to write the best song ever written,' nothing happens. Something in the heavens has to say, 'This is the time that this is going to be laid upon you and this is when I want you to have it.'. . . Artists get in the way. . . You need to let the music write itself (Living with Michael Jackson, 2003).
No Results Found
The page you requested could not be found. Try refining your search, or use the navigation above to locate the post.