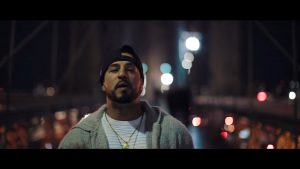 Ryan Stream is a motivational speaker, musician, soldier, and a Delta High School football coach. He does anything and everything that he possibly can to make a difference in the world. For, as he says, "I am the author of my story."
Life has not always been easy for Ryan. But, in the words of one of his all-time inspirations, Rocky Balboa, "Life is not about how hard you hit, it's about how hard you can get hit and keep moving forward. Every champion was once a contender that refused to give up."
Ryan was adopted as a young boy. Before he was adopted, he and his three brothers slept in a homeless shelter and different foster homes. In time, their little family became torn apart and they were separated from one another, each feeling helpless and alone. Eventually, they were reunited and adopted by the same family – the Stream family. The Streams already had seven kids of their own. They raised Ryan and his brothers to be righteous warriors and to always put God first in their lives. However, Ryan chose a different path.
Because of the bad decisions that he made, Ryan has had to overcome numerous obstacles, challenges, and drug addictions. He even served time in jail. He turned his life around and honorably served his country. He was deployed to Afghanistan twice and spent a total of 608 days in the country. Speaking about his experiences, he says, "Our first mission was to find bombs placed in the road and clear the routes before any convoys passed.  Our second mission was to build and train the Afghanistan Army." War usually doesn't come without its tragedies and loss of life, and during his time in Afghanistan, 23 of his comrades-in-arms were blown up by Improvised Explosive Devices (IEDs).
Having seen war first-hand, Ryan is now on a new mission to make a difference through the music that he creates. He does not know how to read music but honestly prays to be blessed with the talent to write music. He has had the privilege of speaking at school districts, concerts, and universities. He also speaks at LDS Firesides. He speaks about his life experiences and military experiences while playing music that he has composed.
Ryan is a member of The Church of Jesus Christ of Latter-day Saints. He married his wife, Elizabeth, on 3 March 2012. He baptized her and she became a member in 2016. They have a four-year-old daughter named Nixeon and are expecting another little girl soon. He is currently serving in the Utah National Guard and working full-time at a company called Materion Natural Resources. His music is available for download on iTunes (The Author of My Story) and for streaming on Spotify.
No Results Found
The page you requested could not be found. Try refining your search, or use the navigation above to locate the post.