Share a Little Feel a Lot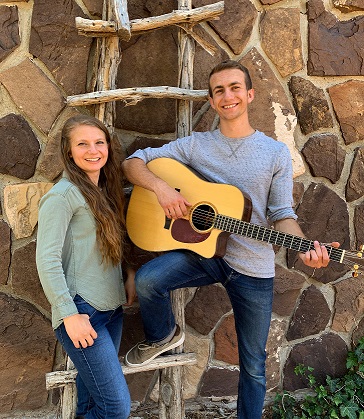 Share a Little Feel a Lot was founded by Sherra and Phill Swapp in November of 2019. From the time they can remember their mother has had them singing.
Phill (17) and Sherra (21) are two of seven children and have always enjoyed doing music with their family. It is hard to find a time in the Swapp house without someone singing, humming, or whistling and someone else chiming in with the harmony.
Everyone in the family started piano lessons at age five. Sherra enjoyed the piano, but Phill found a way out of those lessons pretty quickly and latched onto the guitar. which turned out to be a very good thing. He excelled quickly in that talent and has had a love and passion for the guitar that is not seen in many. 
Growing up in a small town in Utah, the Swapp family took every opportunity they could to share their talents. They would perform at local football games, church parties, school events, talent shows, and one of their favorites- the local long-term care center. They had a blast doing what they loved.
In 2015, the Swapp parents were inspired to take a job change and moved the family to another small town in New Mexico. This was a big change for the Swapps but led to a whole new world of music that they had never imagined they'd be involved in. In New Mexico a neighbor heard they were musical and kindly invited them to "The Monthly Bluegrass Jam." Sherra says she leaned over to her dad and whispered, "What's bluegrass?" Being not as familiar with this style of music, they were excited to go see what new music New Mexico had to offer!
When they arrived at the jam, they found a group of adults no younger than 60 sitting in a circle and having a blast playing guitars, banjos, mandolins, dobros and an upright bass. The group welcomed the Swapps with enthusiasm and encouraged them to join the circle and play along. Never missing an opportunity to play music, they did. Later into the evening, a young man their age showed up. He was an amazing musician and could play the mandolin like it was second nature. His name was Ethan. He and Swapps became great friends and started getting together to play music. He taught them the bluegrass style and they taught him vocals.
During this time Phill and Sherra were able to learn to play a few unique instruments. Phill took a liking to the mandolin and bass. Sherra started out in the band playing the ukulele and a little bass here and there but decided to learn the banjo when she returned home from her mission for The Church of Jesus Christ of Latter-day Saints and she has been loving it! They started performing together as the Tucumcari Crossroads Band, going places they never thought they would.
The band performed in multiple bluegrass/music festivals, weddings, ribbon cuttings, and more across Texas, New Mexico, and Oklahoma. In 2019, they tried out and made it as 1 of 20 bands into the KSMU Youth in Bluegrass contest in Branson, Missouri. They made it again in 2020, but sadly the contest was canceled due to the COVID-19 pandemic. They also had the honor of being the opening band for the bluegrass star, Doyle Lawson and Quicksilver. They are still enjoying their bluegrass band today and are looking forward to more festivals to come.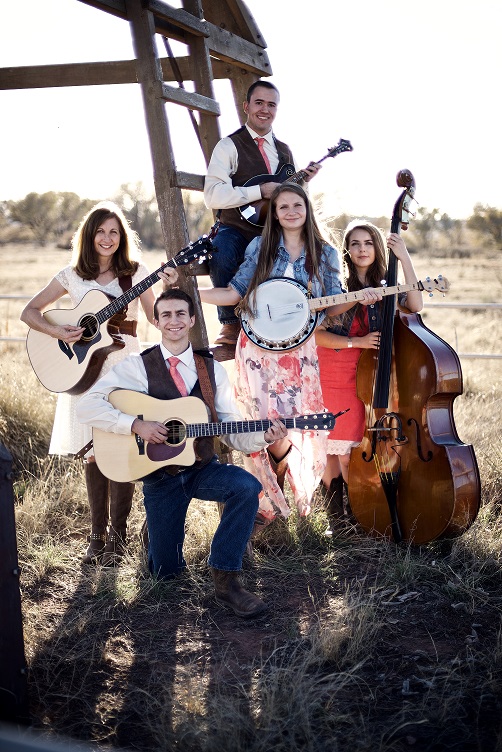 Although Phill and Sherra love their bluegrass music, they also wanted to share the other styles of music they enjoy doing. After Sherra returned home from her mission to California, they decided to start Share a Little Feel a Lot so that they can share other genres that they love.
The goal of Share a Little Feel a Lot is to bring music that is fun, uplifting, and inspiring to all that listen and help them feel the love of our Savior. Phill and Sherra's biggest dream is that people walk away feeling happier than before they listened to their music. They love doing originals, covers of hymns, pop songs, and anything that makes people feel good and brings a smile to their face. Phill's love of videography has been a huge plus to their music videos and they also have had the opportunity to work with very talented people in producing higher quality videos. They are thankful to all who have contributed.
Phill and Sherra could never be where they are today without their faith. They say their whole music experience has been a miracle. The Lord has led them to places they would have never been able to get to by themselves. They hope that their music helps others to feel the love that our Heavenly Father has for them. This life is hard and we all need a reminder once in a while that we are loved and valued. Sherra and Phill hope that they can be a part of helping remind others of that, just as others have helped them.
You can contact Share a Little Feel a Lot at [email protected].
No Results Found
The page you requested could not be found. Try refining your search, or use the navigation above to locate the post.