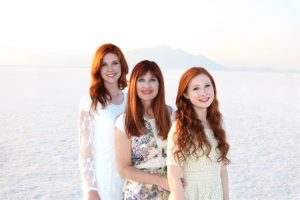 The Classical Crossover music group known as THREE REDS performs in a variety of styles. The members of the group are Melou Stewart Cline, Arielle Cline, and Maren Paris Cline. All are members of The Church of Jesus Christ of Latter-day Saints.
Before the group commits to creating an arrangement for a song, two important questions must be answered: "What kind of feeling does the song emote?" and "Does the song send a positive message?"
To date, Three Reds have posted six musical performances on their official website and on their YouTube channel. They released their brand-new music video called "Oh I Want to Be an Angel" on Sunday, 4 February 2018. The original song by Melou is a humorous depiction of the on-going struggle that one can have trying to act like an "angel" and learning to Choose the Right (CTR).
From the Start
From her early childhood to her present-day life with her family, Melou has been presented with numerous opportunities to share music with others no matter where she is. She said, "One of our on-going family traditions is sharing and performing music with others. Over the years, we have watched our children's confidence and comfort with performing develop as they share their music with a kind audience. Since Maren was a baby, we have been able to visit and share music with various elderly homes and facilities. Watching individuals participate, re-awaken and respond positively to music, is a great reminder of the power of music."
In August 2017, while singing and traveling together in Newport, California, it was by inspiration that Maren suggested the idea to start an official family music group. Everyone else agreed unanimously. On that trip, the family created their first acapella music video. Maren filmed the entire video on an iPhone and edited it.
On 4 September 2017, Three Reds launched their new musical group with the official name THREE REDS. Their first music video cover "How Great Thou Art" was released on their YouTube channel on 5 September 2017 and as of early February 2018, the video has garnered 1,448 views. THREE REDS official mission statement, found on their official website, reads, "to bring positive music and positive energy to the forefront in a challenging world. We hope to take Three Reds to all places."
Meet the THREE REDS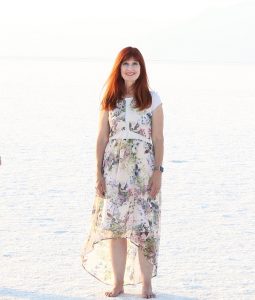 Singer-songwriter, arranger, and pianist of THREE REDS, Melou Stewart Cline, grew up in a musically inclined home in Salt Lake City, Utah, where her ability to create and produce music was recognized at an early age. While she can play various instruments, her primary instruments are piano and voice. Growing up, she had multiple opportunities with her family to provide musical service for individuals at nursing homes. In her early teens, she would spend time using various tape-recorders attempting to engineer and record vocal tracks (voice and piano) with melody and optional harmonies. She learned quickly that while her perfect pitch was a blessing, at times it was also a challenge.
Melou served a mission to the Brasilia Brazil area. At the time it was the largest mission in the world. With the mission musical performing group, Ambassadors, Melou soloed and performed in some renown venues in Brazil, including the Amazon Theater in Manaus and the National Theater in Brasilia. Through this opportunity, she was able to see firsthand how sharing spirit-filled music brought peace and comfort to the listener.
While a young single adult, after graduating from the University of Utah and completing a Hinckley Institute internship in Washington D.C., Melou knew she wanted to return and live in the Arlington, Virginia area. She left one résumé at the National Endowment for the Arts on Pennsylvania Avenue. A few months later she got the call and immediately accepted the job becoming a program assistant in the Music Program at the National Endowment Association (NEA). She also secured a job singing and playing piano gigs week day evenings in the Sheraton Hotel Lobby in Crystal City. On the weekends, Melou would travel wherever her talent agent booked her. She was able to enjoy many opportunities playing and singing for a variety of people and experiencing the power that music has to change an environment. She had a lot of unique adventures, including the night when playing and singing her piano bar blues, she was given a $100.00 tip.
After seeing a man die tragically in a car accident in front of her home in Arlington, Virginia, Melou decided she needed to pursue a career that would involve music, service and psychology. In 1994, she completed her graduate degree, Master of Art/Music Therapy equivalency with the emphasis of her Master's degree being on Psychology-Family Systems, from University of the Pacific in Stockton California. That spring she married her husband Russ Cline.
Melou and Russ started their family a couple years later. They are the parents of four wonderful children Maren, Jacob, Arielle and Isaac. Their oldest son Jacob, is currently serving a mission in Taiwan.
She is the Director of Music Therapy at Elizabeth Academy in Salt Lake City, Utah. She loves using her education and training to help individuals achieve their personal goals using Music Therapy. She is also a public speaker and presenter who is an advocate for using music daily in one's daily life. Because of her opportunity to work with individuals using music as a therapeutic tool, she knows of the power it can wield if used with a purpose. Melou also writes and performs music for community events and arts organizations in Utah such as Tanner Dance.
Melou is an American classical singer, composer and pianist. She has performed in world class venues such as Notre-dame Cathedral in Paris, St. Paul's Cathedral in London, and Canterbury Cathedral. She soloed with the Utah Chamber Artists in London, France (2008), and in Germany, Austria and the Czech Republic (2014).
She has been a member of the Mormon Tabernacle Choir singing 1st Soprano since 2014. In July 2016, she was part of the choir as they performed throughout central Europe.
In December 2016, Melou toured in Nagoya, Japan with her family presenting concerts with the performing missionaries of the "Mormon Show," as well as providing other family performances for the Japanese people in various areas.
Melou Stewart Cline is a recording artist. As a singer-songwriter, she has produced, written, arranged and performed on four of her own music albums – Creio em Cristo, The Gift of Time, The Sleep of the Child Jesus, and A Celebration of Life. She has recorded with various artists including Michael Stewart, Utah Chamber Artists, Mormon Tabernacle Choir, Jon Schmidt, and The Piano Guys.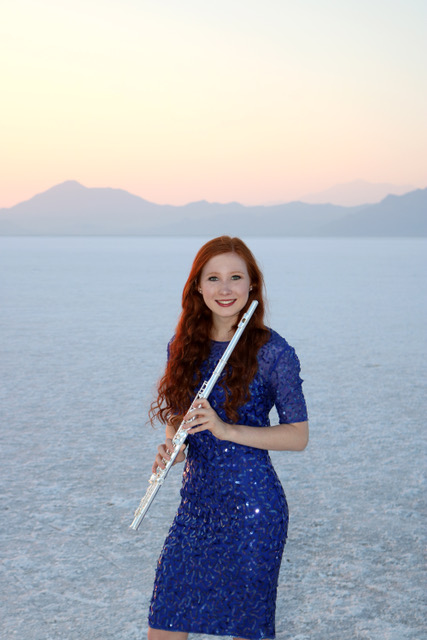 17-year-old, Arielle Cline, is the flutist and a singer for THREE REDS. She has been a part of her family's musical performances since she could talk and sing. She has grown up playing in sacrament meetings and nursing homes. She is passionate about playing the flute and began studying when she was seven. Arielle has been a flute scholarship student with the Gifted Music School for five years. In May 2016, Arielle performed with the GMS Orchestra, playing flute on Appalachian Springs with guest conductor Bill McGlaughlin. She has also performed with the Utah Youth Philharmonic Symphony and other ensembles. On Saturday, 10 February 2018, she will play first flute, performing with the Gifted Music School, playing Ravel's Tombeau de Couperin.
In November 2016, Arielle had the opportunity to solo on flute with the Gifted Music School Orchestra playing the second movement of the Goldfinch Flute Concerto. Within the same month, she was able to perform with her family in various cities around Nagoya, Japan. While in Japan, she fell in love with the food and the people. One of her favorite memories includes sharing music with her family.
Arielle also plays the piano, loves to ski, play tennis, bake gourmet treats and read. She is involved in numerous activities in her school including being an Health Occupations Students of America (HOSA) Officer and will participate in the Regional HOSA competition 2018. Last year she went to the State Stem Science Fair and was awarded the Most Spirited Award, winning $100.00.
Arielle has been dancing since she was two years old. Currently she performs regularly with two Utah based modern dance organizations. One of the organizations being Children's Dance Theater in Salt Lake City, Utah.
Due to her musical family, Arielle has grown up singing ever since she has been able to walk. She enjoys singing in her school's concert choir. Along with all her other hobbies, she loves traveling and exploring new places.
Arielle Cline is planning on serving a mission when she is old enough and hopes to bring her flute along.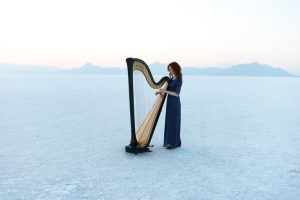 Maren Paris Cline, singer, harpist, pianist, video editor of THREE REDS, is a public/motivational speaker and performer and entertainer in many arenas. As a baby, Maren was eager to put on a show and sat in her stroller cooing along while her mom sang to elderly residents in nursing homes. Performing and entertaining became Maren's passion through many different facets.
She grew up performing not just on the stage, but on the ice. Figure skating was one of Maren's passions for five years until she switched over to dance. She danced for five years with the Children's Dance Theater in Salt Lake City, Utah, performing as the lead in the "Apple Pip Princess" which debuted in Salt Lake's Capitol Theater. During this time Maren became a member of the Salt Lake Children's Choir, directed by Ralph Woodward, performing in the Christmas Mormon Tabernacle Choir Concert, Kurt Bestor's yearly Christmas concert, and at the One Faith Roundtable. Music has been and is a passion for Maren and her enthusiasm for it caused her to expand onto different instruments.
Maren also participated and placed in different harp competitions as well as receiving high scores in State Solo and Ensemble competitions. During high school she was a member of the Utah Youth Philharmonic Orchestra for two years playing both violin and harp (however not at the same time). She had the opportunity to be chosen as the 2014 Woods Cross High School Sterling Scholar for Vocal Performance. One of her favorite experiences was in 2014, auditioning and being chosen as a vocal soloist with the Honors Performance Series performing in Carnegie Hall in New York City. Maren was also a runner up in the state Distinguished Young Women competition in 2013.
Maren served a mission in Nagoya Japan, where music became a key to bringing the Spirit and helped people recognize the love of God. By some miracle, she was able to get her hands on a backpack harp and would bike around with the harp on her bike spreading the Good News through music. Maren helped direct and organize a missionary musical group that toured through the Nagoya mission.  It was called the "Mormon Show." She saw evidence of the power of music on her mission, and knew that she wanted to continue using music for good for the rest of her life.
Maren currently holds the title of Utah Days of '47 Queen for 2017-18. She has had the opportunity to speak to hundreds of people regarding her pioneer ancestors and perform musically with the other Days of '47 royalty.
Maren Paris Cline currently attends Brigham Young University (BYU), trying to study way too many things. She is a News Media major (broadcast journalism), minoring in music, nonprofit management, and hoping to complete a certificate in entrepreneurship. She loves learning, reading, video editing, eating, traveling, Thai food, skiing, and is a self-proclaimed yogi. She hopes that she can positively contribute to the world.
No Results Found
The page you requested could not be found. Try refining your search, or use the navigation above to locate the post.