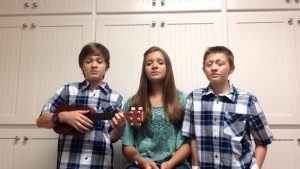 The 16-year-old (17 December 2002) Mortensen triplets – Joshua (Josh), Jared, and Karli – form the musical trio known as Triple Forte. They are members of The Church of Jesus Christ of Latter-day Saints and are from Gilbert, Arizona. Although they enjoy singing together, many of the YouTube videos feature Josh singing solo or performing with another young artist like Evie Clair. The group has a YouTube channel where they have published a few videos of them singing together, and Josh also has his own YouTube channel.
A few of the artists that have influenced their music include Brad Paisley, Jordan Bluth, Michele Baer, and Phillip Phillips. The trio says that they have always loved to sing. They started singing together at the age of four. When they were six, they joined the East Valley Millennial ™ Choirs & Orchestras (EVMCO) children's choir and started taking voice lessons from Jordan Bluth. Per his official website, Jordan Bluth is an award-winning tenor who "has established himself as an artist of unique skill and variety, showcasing the power of his 'soul-stirring vocals' combined with a rich palette of colors and 'pristine vocal texture.'" In 2013, the trio started singing with the Inspire Youth Choir. On their official website, they comment, "We feel something special when the three of us sing together. As we have gotten older, our love for music has only grown."
Jared loves to sing, act, and play sports like soccer and basketball. When he is not doing his three favorite things, he can be found taking it easy listening to Brad Paisley or reading a book.
Besides singing, Josh loves to act, write songs, and play the piano. He also taught himself how to play the ukulele. He was born with a hearing loss and had successful corrective surgery when he was 2 ½ years old which restored 95 percent of his hearing. He started talking and singing soon after that. As a member of EVMCO, he recorded "Jesús Nasciera (Ríu, Ríu, Chíu)." He got his start as a solo artist at eight years of age with Rob Gardner when he was asked to sing "The Manger of Bethlehem." He performed the song live at the Mesa Arizona Temple and then recorded the song for Garner. Since then he has gone on to record with Rob Gardner for the soundtrack of 2015 film "Cokeville Miracle," and he also recorded as a soloist for Cinematic Pop's "Somewhere Only We Know." Josh was also the First Place Winner and Overall Winner in the 2015 Arizona Got Talent Contest.
Besides singing with her brothers, Karli is a soloist in her own right. She has performed in several school productions and in March 2017, she released a music video, a cover of "Peter Pan" by Kelsea Ballerini.
Triple Forte has had the pleasure of opening for acts like the world-famous Dutton's. In 2014, they sang the National Anthem for the Gilbert Arizona Constitution Fair.
No Results Found
The page you requested could not be found. Try refining your search, or use the navigation above to locate the post.