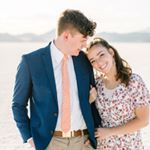 Kyle and Tali are members of The Church of Jesus Christ of Latter-day Saints. They have both been immersed in music since they were kids.
Inspired by his grandma and older brothers, Kyle began writing songs at the age of five. Around the same time, he started piano lessons. He continued with piano lessons and eventually started teaching others to play the piano.
Along the way Kyle got involved in choir, band, and musicals. He met Tali while performing in musicals. Before serving his mission, Kyle was able to co-write and perform "Thy Will Be Done" for the 2017 Youth Album of The Church Of Jesus Christ of Latter-day Saints.
With her silky smooth voice, Tali excelled in musical theater, choir, and vocal competitions growing up. She met Kyle in high school on a musical theater team and they became best friends.
After getting married they realized they had an opportunity to create music together and build the kingdom of God at the same time. It turned out their skills worked really well together, and they have been able to uplift thousands through their music.
No Results Found
The page you requested could not be found. Try refining your search, or use the navigation above to locate the post.