Two talented LDS teens, Aaliyah Rose (14) and Lauryn Judd (16), impressed the judges on NBC's The Voice with their music prowess and both were chosen for teams to continue in the show.
17-Year-Old Lauryn Judd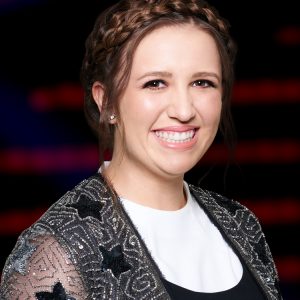 Lauryn Judd from Draper, Utah, received a three-chair-turn from the judges after her blind audition performance of Cyndi Lauper's "Girls Just Want to Have Fun." At one point during her performance, Alicia Keys thought there might have been two separate voices but was pleasantly surprised to find that there was only one voice and was amazed by Lauryn's singing talent. Faced with the decision of which judge to choose as her coach and mentor – Blake Shelton, Alicia Keys, or Gwen Stefani – she ultimately chose to join Team Alicia. Per LDS Living, Alicia said, "Lauryn has an amazing voice. She's only 16 so there's a ton of stuff we can build and bring out, and I'm very, very excited about her."
Singing has always been a part of Lauryn's life. In fact, all her friends know her as a singer. She says, "I've been singing ever since I could talk." She has participated in school choirs, and when she was eleven years old, she became part of Utah Copa, a musical theater company for youth. She has always had the loving support of her family in all her music adventures. Her mom drives her to music lessons while dad sings in church choirs and is always in search of new songs for Lauryn to sing. Lauryn comments, "My family means the world to me . . . They've supported me through everything and The Voice is validation that their support was worth it."
Lauryn Judd is Eliminated in the Battle Round
During the battle rounds on NBC's The Voice on Tuesday, 28 March 2017, 17-year-old Lauryn Judd from Draper, Utah, faced Lilli Passero, 26, of Studio City, California, as they sang "Every Little Bit Hurts" by Brenda Holloway. Ultimately, Alicia Keys, their coach, chose Passero to win the battle round and move on to the knockout rounds. Alicia commented, "I just really love the two of you because you both are obviously aware of (who) you both are. Both of you came up (with) new things. … You both really evolved this even further in the ways that complimented you individually and that shows true artistry."
Lauryn later posted on Instagram, ""I'm so grateful for everyone who's supported me on this journey and in my life. I've learned so much about myself and I wouldn't take that experience back for the world."
14-Year-Old Aaliyah Rose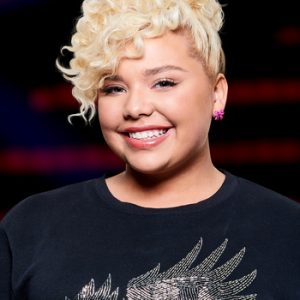 Aaliyah Rose from Provo, Utah, performed a rousing rendition of Andra Day's "Rise Up" for her blind audition and landed a spot of Gwen Stefani's team. Stefani expressed how much she wanted a "young, little pop girl that I could just hang out with and share my story with." She commented, "Aaliyah Rose, that's who I wanted to get today and I got her. She has an incredible voice and she's 14 years old."
Aaliyah, known for her popular YouTube covers, told Stefani that she had created a cover of her song "Make Me Like You." Stefani was amazed and mentioned that the song was about Blake Shelton. She also told Alicia Keys that she was a great inspiration to her and that her song "If I Ain't Got You" was the first song that she ever performed.
Growing up, Aaliyah loved singing around the house with the fake microphone that she got as a Christmas gift one year. By the time that she was 10 years old, she decided that she wanted to share her musical talents with the world, so her parents created a YouTube channel for her. As of mid-March 2017, her YouTube channel has amassed over 100,000 subscribers and her videos have been viewed more than 11.7 million times. She says, "Ever since I started singing, I just knew I wanted to sing for the rest of my life." Her first video instantly went viral reaching hundreds of thousands of views. Per LDS Living, "Her highest viewed music video, reaching close to 5 million views, is a cover she did of Meghan Trainor's "Lips Are Movin" which Trainor herself posted on Twitter." Aaliyah was only 12 years old when she made the cover.
Aaliyah says that she has had continual conversations with Trainor ever since. Trainor even sent her a surprise video before her blind audition to wish her "good luck" on The Voice and told her to "Be yourself, and go get your dreams girl!"
Aaliyah chose to sing "Rise Up" because "This song is a way for me to tell my family that things are going to get better and that there's always hope."
Aaliyah Rose Advances to the Knockout Rounds on NBC's The Voice
On Tuesday, 21 March 2017, 14-year-old Aaliyah Rose sang "Treat You Better" against 16-year-old Savannah Leighton of Spring Garden, Alabama, during the battle round and won. Before announcing her the winner of the competition, Coach Stefani commented, "You were unbelievable. That vibrato blows my mind." Leighton congratulated Aaliyah on social media sharing on Instagram that Aaliyah is "such a sweet and loving soul.. so blessed to have met her and to have shared the stage with her.. she's seriously amazing." Aaliyah now moves to the next round of the competition – the knockout round. If she wins the knockout round, she will participate in the live shows.
Aaliyah Rose Loses Knockout Round but is Stolen by Blake Shelton for His Team
On Tuesday, 4 April 2017, Aaliyah Rose who sang "Like I'm Gonna Lose You" by Megan Trainer and John Legend lost the knockout round to Brennley Brown who performed "Up To The Mountain" by Kelly Clarkson on NBC's The Voice. Their coach, Gwen Stefani, commented that Brennley was a surprise and that Aaliyah was so unique that she would listen to her records. However, it is far from over for Aaliyah. Blake Shelton hit his button to steal Aaliyah for his team. He commented that Brennley is doing what she is born to do and that Aaliyah does not sound like anyone else.
Aaliyah Rose Eliminated from NBC's The Voice in Live Playoffs
Aaliyah Rose, 14, from Provo, Utah, was voted off NBC's The Voice on Monday, 17 April 2017, after performing in the live playoffs. Aaliyah sang "Brass in Pocket" by the Pretenders, which her coach, Blake Shelton said he heard at the gym and knew would be the perfect song for her.
Shelton told Aaliyah, "As much as I look for people with great voices for this show, I look for also just people who have something different about them, and you for sure have that." After her performance, he said that he thought it was her best yet. He further said, "I want everyone to vote for her because there's nobody else like her on the planet."
Aaliyah later posted on Instagram, "I am so overwhelmed with the love and support you guys have shown me on this journey!! I know you guys were voting like mad and have been there every step of the way for me😙❤ Thank you @blakeshelton for giving me another chance and believing in me. Hearing you say that you really believe I am special means so much to me💕 Not only did I get to have you believe in me but also @gwenstefani This has been an absolute DREAM COME TRUE and I am so grateful for every second of it."