Alex Boyé, a multicultural, multigenerational, global, independent artist with over 1 billion views on his YouTube channel, was born in England to Nigerian parents. He lived in Nigeria for a short time during his childhood but was then raised by foster parents in England while his mother remained in Nigeria. For most of his childhood, he took care of himself, lived in foster care, or lived with a relative. At the age of sixteen, he found The Church of Jesus Christ of Latter-day Saints (often mistakenly referred to as "The Mormon Church") and was baptized. He later served a full-time mission for the Church in the England Bristol Mission.
According to a recent press release by Schure Media Group (SMG), Boyé's "diverse blend of African-infused pop music and vibrant dynamic visuals have captured a loyal legion of online followers turning him into a viral sensation!" His viral music videos of Africanized pop covers have been featured on major network television shows like Jimmy Fallon, Good Morning America, Fox & Friends, and Jimmy Kimmel, to name a few.
For May Mental Health Awareness Month, Boyé is releasing two new singles – "Bend Not Break" and "Still Breathing" – from his forthcoming album titled Coming to Amerika. According to SMG, both singles are "songs of encouragement and hope created to save lives and inspired by personal experience!" Boyé talks about his commitment to suicide prevention and shares a personal experience in a YouTube video. Speaking about the two songs, he commented:
"Bend Not Break" is a song that encourages people considering suicide to look beyond their current circumstances and make a different choice, to bend and not break. "Still Breathing" shares the thoughts of someone who attempted suicide but survived. After some time, they recognize the gift of life again and are grateful that they're still breathing.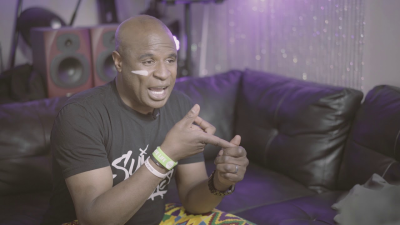 Leading into Mental Health Awareness Month in May, Boyé will embark on a national tour, aligning with The American Foundation of Suicide Prevention's #realconvos campaign. Robert Gebbia, CEO of The American Foundation of Suicide Prevention (AFSP), has selected "Bend Not Break" as their main theme song for Suicide Prevention Week and its message during Mental Health Awareness Month. During the tour, Boyé will be bringing a message of hope and encouragement to young people and teens who struggle with mental illness and are contemplating suicide. He will speak in high schools, non-profits, and community organizations who have partnered with his Bend Not Break Foundation.
On Thursday, 25 April 2019, Boyé will be honored with the 2019 Erase The Stigma Leadership Award from the Didi Hirsch Mental Health Services Agency at the Beverly Hilton Hotel in Beverly Hills, California. He joins the distinguished ranks of past recipients of the award, which include Quincy Jones, former First Lady Rosalynn Carter, Dustin Hoffman, Annette Bening, Carrie Fisher, former Congressman Patrick J. Kennedy, Terry Bradshaw, Kid Cudi, Ronda Rousey, Melissa Rivers, and Judy Collins.
Boyé will also be participating in several other events connected to suicide prevention and mental health awareness as listed below:
27 April 2019 – Fullerton, California – Intramural Field at Cal State
Performer/Headliner at the Donate Life Run Walk Festival
7 May 2019 – Jazz at Lincoln Center – New York City, New York
Host/Emcee/Performer of the Lifesavers Gala for The American Foundation for Suicide Prevention.
18 May 2019 – Dixie State University – St. George, Utah
The headliner for "Spirit of Hope Gala" for the Doctors Volunteer Clinic.
According to the CDC Vital Signs, suicide is a leading cause of death in the U.S. with an estimated over 45,000 lives lost to suicide in 2016 and nearly 1,400,000 suicide attempts in 2017. Boyé further commented:
This is more than entertainment, my music is 'innertainment.' Music that can change lives from the inside. Even if I can save just one, then we have done something great! When we encourage #realconvos about mental health and suicide, that's how you get people to open up! As soon as the conversation begins, that's when the light comes on. Sometimes all it takes is music, just one song can break through.
"Bend Not Break" is produced by K.C. Knight, executive produced by Randy Jackson (American Idol) and penned by Jordan Powers & Alex Boyé releases on 3 May 2019. "Still Breathing" was co-written by Boyé and produced by Tha Aristocrats (DJ Khalid) and releases on 17 May 2019. Alex Boyé's forthcoming album Coming To Amerika is produced by Grammy award winning producers 'Blac Elvis'(Beyoncé, John Legend, Usher, Ciara, Jill Scott) and Neff-U (Michael Jackson, Mary J. Blige, Ne-Yo, Dr. Dre, Justin Bieber) and will be released by BFD via The Orchard.
You can learn more about Alex Boyé by watching his Sizzle Reel on YouTube. You can also book Alex Boyé's "Bend not Break" musical presentation at your school or organization by visiting his official website and connecting there. You can also follow Alex Boyé on social media – Instagram, Facebook, YouTube, Twitter, Spotify, and SoundCloud. Boyé's music is also available for purchase on iTunes, Tidal.com, Amazon.com, and Bandcamp. And take a moment to read UtahValley360's interview with Alex  Boyé