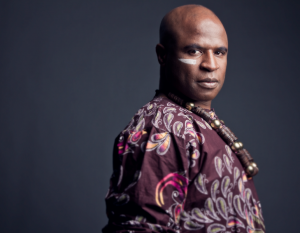 Alex Boyé, a British-American singer with millions of YouTube views, is a passionate artist with a golden voice. He is currently working on his next music video which is being filmed at Sand Hollow State Park in Hurricane, Utah, with the help of the Dixie State University film department. The music video will feature a version of a song from the blockbuster 2017 film The Greatest Showman and is being produced by the Dixie State marketing and communication department.
Included as part of what Alex describes as the "biggest project" he has ever done, are a 200-person children's choir, a full orchestra, and African-style drummers. Featured in the video are several different locations in the area, including Snow Canyon State Park, Dixie Rock, and Sand Hollow Reservoir.
Jordan Sharp, Dixie State University's chief marketing and communication officer, is the producer of Alex's video. He told St. George News, "When it's all said and done, there will be about 500 people who participated in the music video at about 15 different locations across Southern Utah. It will be the best Alex Boyé video to date." Alex commented, "It's definitely a collaborative project. What I love with it is how the students are being highlighted – they're shooting it, they're producing it, they're starring in it." Most of Alex's videos only take a day or two to film, but this project is taking at least six.
For the video, Alex is dressed in an old-fashioned red suit complemented with a top hat and scepter. According to the St. George News, he "sang and danced with different musical groups from the community and university, including 200 children from local elementary and intermediate school choirs who sang from atop Dixie Rock, also known as the Sugarloaf, on Red Hills Parkway in St. George." Parts of the song in the video were sung by Dixie State University students and a children's choir who recorded their parts through Lisa Seegmiller Studios. The recordings were then sent to Alex's producers in Boston.
Sharp further commented that the storyline of the video follows the life of a student from Nigeria as he arrives on the campus of the university and begins to follow his dreams. Alex, who plays a genie-like character in the video, transports the student to different scenic locations around southern Utah to help him find the passion that is right for him.
An added plus of the video is that it will highlight some of Dixie State's academic programs, serving as a marketing tool for the university. Sharp said, "Alex provides a national if not international platform to show what's amazing about Dixie State. There are people who will find out about Dixie State in this video who would probably never hear about Dixie State in their entire lives."
Some of Alex's most successful music videos have been filmed in Southern Utah. Alex said, "St. George is one of my favorite places to shoot music videos. Any excuse to come back, I'm like, 'OK let's do this.'" Once completed, the music video will be posted on his YouTube channel. While you wait for Alex's new video to be released, below is his latest video "Warrior Song" which was inspired by the film Black Panther.
*The feature image for this article is by Spencer Ricks, St. George News.