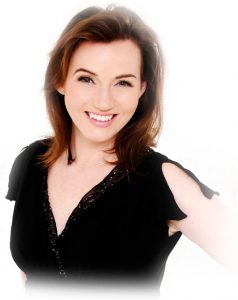 Alexandria (Alex) Sharpe is an Irish soprano who has performed as the lead singer for the music group Celtic Women, and who has also had a monumental career in theater productions and as a world-renowned solo artist. She grew up in Dublin, Ireland, and is a member of The Church of Jesus Christ of Latter-day Saints.
This Easter season, she will highlight two Easter Spectacular concerts – one in Ogden, Utah, at Peery's Egyptian Theater located at 2415 Washington Boulevard, and the other in Logan, Utah, at the Logan Tabernacle, located at 100 N. Main Street. She will share the stage with master storyteller, Glenn Rawson, and Jason Tonioli, a gifted musical composer and pianist. The concerts will take place at 7 p.m. Thursday, 13 April 2017, and 7 p.m. Saturday, 15 April 2017, respectively. Special guest artist, Kelly Donovan, will paint a portrait of Jesus Christ during the performances which will be given away to a person in the audience after the show.
Jason Tonioli garners 1.5 million song plays on Pandora each month. Of those songs, he says that his hymn music is the most popular. He told the Standard-Examiner, "I've always figured that if I were going to try and do a concert with my most popular music, it would need to be around Easter. When the opportunity to do a concert, this Easter came about, I couldn't think of a better way to do it than to have an incredible vocalist like Alex who used to sing with Celtic Woman, mixed with Glenn Rawson who is one of the best story tellers I know." He hopes that people will leave the concerts having a deeper appreciation and understanding about why we celebrate Easter. Besides performing some of his sacred music, he will also provide background music for the storyteller, Glenn Rawson.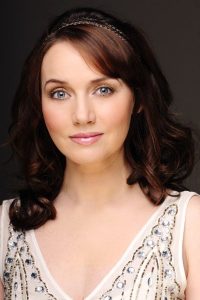 Alex Sharpe who has also been a guest artist with the world-renowned Mormon Tabernacle Choir on the program "Music and the Spoken Word" and featured in local concerts in 2015, says that to her knowledge, she is the only Irish Mormon in the entertainment industry. She stated that the concerts will center around faith in the Lord, Jesus Christ. "We will talk about Irish folklore and history and how they tie into the hope of the Resurrection and the gospel," she said.
Alex attributes her mother for both the musical and spiritual influences in her life. Her mother, whom Alex refers to as "a real pioneer in her family," is a convert to The Church of Jesus Christ of Latter-day Saints, having been baptized in the 1970s. Alex explained to the Standard-Examiner that her mother (born and raised Catholic) being baptized and becoming a member of the Church at that time was a big step.
Glenn Rawson is perhaps best known for his amazing storytelling on KBYU's "History of the Saints" as well as other projects. According to a news release, Glenn "has a special gift for sharing unforgettable tales and is sure to delight listeners with little-known stories that need to be shared." He will share stories related to the Easter theme during the concerts.
The Standard-Examiner also reports that those who attend will get a preview of a few of the tracks that Tonioli and Sharpe are recording together this month.