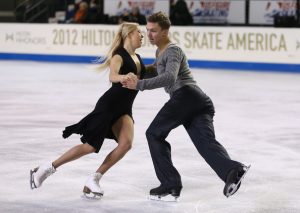 For the first time in Olympic history, figure skaters could perform to music with lyrics at the 2018 Pyeongchang Winter Olympic Games. Music by three LDS music artists – the world-renowned group, The Piano Guys, Rob Gardner, and LDS singer April Meservy – was featured during performances by three medal-winning Olympic figure skating pairs.
Appearing for the third time in the Olympic Games, Russian figure skaters Ekaterina Bobrova and Dmitri Soloviev performed an awe-inspiring routine to The Piano Guys' Beethoven and One Republic mashup "Beethoven's 5 Secrets." The pair placed third in the Ice Dance Free category. With a score of 110.43, eight points were added to the Olympic Athletes of Russia overall score, helping the team to secure the silver medal. Bobrova and Soloviev also performed the routine at the European Championships in early 2018.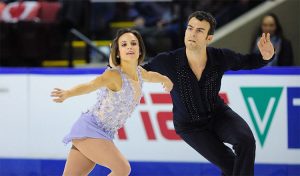 Representing Canada, two-time world champions Meagan Duhamel and Eric Radford performed to April Meservy's cover for "With or Without You" by U2 in the Short Program, receiving 81.66 points. Although they were not favored to win, the pair earned first place in the Pairs event. With a score of 148.51, over 10 points more than the second-place team, 10 points were added to their team's overall score, helping the Canadian team to secure the gold medal. Duhamel and Radford also skated to Meservy's cover at the Canadian National Championships earlier in 2018.
About the experience, Meservy commented, "I feel beyond honored that they decided to use my recording! It has been an emotional experience watching them skate to a song that is so meaningful to me."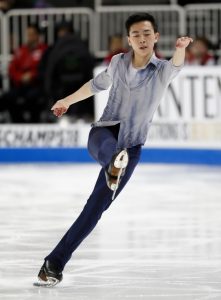 On Thursday, 15 February 2018, the youngest U.S. Olympian this year, 17-year-old figure skater Vincent Zhou, made history when he landed the first-ever quadruple lutz in the Olympics.
Performing to Cinematic Pop's cover of "Chasing Cars," a song arranged by LDS composer Rob Gardner, Zhou earned a score of 84.53 in his short program. Gardener told Deseret News, "It's cool to be able to be a part of that in a small way. That the music we did inspired him to do the routine at least to some extent." After his free skate on Friday, 16 February 2018, Zhou placed sixth overall.