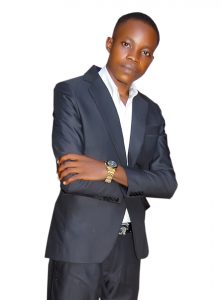 Paul Kumah (his professional name is Wizdivo), born 5 August 1994, is a 24-year-old music artist from Kumasi, Ghana, Africa. He is a convert to The Church of Jesus Christ of Latter-day Saints (often mistakenly referred to as the "Mormon Church) and served a full-time mission in the Nigeria Owerri Mission.
His music career started when he was 18 years old. He had a passion for dancing and had the opportunity to attend a film making school called Ghallywood Academy of Film Acting in Accra, Ghana. Singing and dancing were included as part of the course curriculum. He studied dance, singing, acting, cinematography, film and video editing, and directing.
After completing his course of study, his first project as an actor was playing the part of a school boy in a film written and directed by the Director of the school, William Nana Akuffo. The film was called Modern Day. In 2010, the film was made into a television series which aired in London, England. In 2012, he produced his first film. The film was made in a local tribe, Basaare and Twi, in Ghana, and was called Saan ki Taaji (Suffer Not Gain). In 2014, he produced another local movie called The Seven Demons. He not only produced both films, but is also credited with the writing, directing, cinematography work, and editing of both.
Paul also took a course in Media Laws and Ethics at the local college, graduating in 2015. It was during that time that he began to develop more interest in music. While making a music video for a friend, he was introduced to the missionaries from The Church of Jesus Christ of Latter-day Saints. He was taught the gospel and was baptized a member of the Church. He says that his favorite verses in the Book of Mormon are Moroni 10:3-6, and it was the reading of those verses that led to his conversion. One year later, he was called to serve a full-time mission.
Paul comes from a non-Christian family. His father died when he was six years old. His mother became his inspiration. Although she was not Christian, she loved his music. His mother passed away while he was on his mission.
In 2015, he recorded his first song, "Adom" (Grace) which was a success. The video can be found on his YouTube channel. After watching the video, his mother encouraged him to continue with his music. In that same year, he had his first performance at the YSA Summit 2015 which was comprised of members from the Kumasi Bantama stake and other stakes in the area. Everyone loved his song.
Paul says that he is inspired by music artists like Alex Boyé, JTM, and Jay Warren. He says, "They give me joy when I listen to their songs. I always want to use music as a tool to bring souls to Christ, and to bring hope and joy to the masses." He continues, "I am a very good dancer with a great passion for music. I love to help the needy in the community through music and help to build the Kingdom of God."
Paul has an upcoming concert in March 2019. The concert will be called The RM Concert. He also has many other upcoming events in which he will be collaborating with young singles to bring smiles to everyone in Zion. He was previous known on YouTube as Paul Jay but is in the process of rebranding all his new music under the name Wizdivo.
No Results Found
The page you requested could not be found. Try refining your search, or use the navigation above to locate the post.