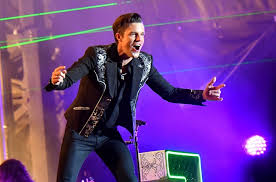 Brandon Flowers, a member of The Church of Jesus Christ of Latter-day Saints, was born in Henderson, Nevada, and raised in Nephi, Utah. He is the lead singer and guiding light of the band known as The Killers. Since he struggled with the effects of the rock star culture, he has been forthcoming about, and more committed to, his Mormon faith through the years. In 2005, Brandon married Tana Mundkowsky and together they have three sons: Ammon, Gunnar, and Henry.
After The Killers' initial success in 2004, with their song "Mr. Brightside" (which has been viewed on YouTube more than 280 million times) topping the charts, the band continued to release Grammy ­nominated hits. Performing with artists like Bruce Springsteen, U2, Coldplay, Pet Shop Boys, Lady Gaga, New Order, Bright Eyes, and many others, The Killers' long-lasting success continued through a decade.
When members of the band needed a break from touring and performing in 2010, Brandon did not settle down. He launched a solo career in between breaks from The Killers, releasing Flamingo (2010) and The Desired Effect (2015). Topping the UK Albums Chart six times with his solo work and songs by the Killers, he is also a recipient of the Q Idol Award. He lists The Beatles, David Bowie, The Cars, Morrissey, Pet Shop Boys (to whom Flowers presented the BRIT Award for Outstanding Contribution to Music) and U2 among his musical influences.
CBSNews,com reports that The Killers hit list extends over some 24 million albums sold worldwide. The band can even be heard playing in a Las Vegas, Nevada, tourism commercial.
But Brandon Flowers does not appear to be your everyday run-of-the-mill ambassador from Sin City. In fact, he and his wife seem like an unusually clean-cut rock-and-roll couple. The reason for this is due in part to their Mormon Faith. Brandon even participated in the LDS Church's "I'm a Mormon" ad campaign in 2011. He told CBSNews,com, "I don't go to church because I got nothing better to do on Sundays; I really believe it! I don't know what my life would be like without it. I think I would have been a casualty of rock 'n' roll."
The Mormon faith played a role in Brandon's life growing up, but so did the glamour of Las Vegas. He admits that he still "gets a rush from it." He and Killers' drummer, Ronnie Vannucci experienced what life on the strip is like at an early age. Ronnie's mother worked at Caesar's as a cocktail waitress. Brandon remarked, "The service industry is a big part of this town. And it's how a lot of our family make their living still, yeah." After high school, the service industry is where they found their first jobs. Brandon was a food runner at a restaurant called Josef's Brasserie and Ronnie drove a pedi-cab.
In 2002, the band's first performance was in a small coffee shop just off the Vegas strip. Brandon laughed, "Probably lasted about ten minutes, but it felt like an eternity, it did!" He continued, ""I was totally open to looking for another singer, yeah. I didn't think that I would do it again. We didn't get a good vibe from Vegas crowds for a long time."
The band played for just about every major record label in the United States but "none of them were pickin' up on us," Brandon said. Even the president of Warner Brothers said that Brandon did not have enough sex appeal. However, thanks to guitarist Dave Keuning coming up with a riff that's become instantly recognizable, the song "Mr. Brightside" skyrocketed up the charts, and with Mark Stoermer on bass, the Killers became headliners.
As they toured the world, they never forgot where they started from. And as they became more popular and started selling out stadiums, they started hanging out with their idols, like Paul McCartney, Elton John and Bono. Brandon commented, ""I really idolize people. So, for me to have the same job as them, is difficult for me. It took me years and years to put those boots on, and go on the stage and say, 'This is who I am. This is what I'm doing.' It was really difficult for me to do that."
Brandon soon overcame that difficulty. In fact, when he faced having writer's block while composing songs for the Killers' latest album, he emailed Bono and in the subject line he put, "'Have all the songs been written?" He then shared with Bono how he had fallen into a slump. To his surprise, Bono replied, "'Have All the Songs Been Written is a fantastic song title!'" The Killers' latest album debuted at number one.