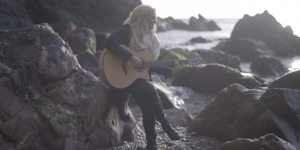 Camille Nelson, a classically trained violinist and acoustic guitarist who specializes in acoustic-driven folk music, released her freshman full-length studio album Lead Me Home with Stone Angel Music on Friday, 18 August 2017. The album debuted no.8 on Billboard Magazine's Classical Crossover Chart, and earlier this week, spent time in the New Age category at No. 1 on iTunes and Amazon.
Camille's immense talents shine through in her magnificent creation of an inspirational instrumental album that effortlessly entwines the genres of Folk, Classical, Bluegrass, and New Age Music. The addition of a string ensemble featuring her brother-in-law and sister-in-law, Matthew and Julie Nelson, with string orchestra and background vocals arranged by Shane Mickelsen, and guest artists like Alex Sharpe (formerly of Celtic Woman), her brother Steven Sharp Nelson of The Piano Guys and Ryan Shupe of Ryan Shupe and the Rubberband lend for an unforgettable masterpiece.
Speaking about her album, Camille said, "Every single person played an integral part in this collaborative project and it's truly an album close to my heart. Integrating emotive, reminiscent, and peaceful melodies, I feel this album captures that genuine essence of what it means to be home."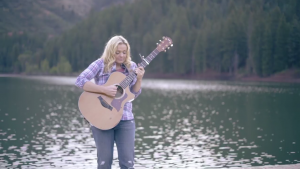 She also released two stunning music videos of songs from the album. On 21 July 2017, the beautiful Irish hymn, "Be Thou My Vision," filmed on location in Ireland and featuring Alex Sharpe, was released on her YouTube channel. And on 24 August 2017, "Nearer My God to Thee," filmed at Tibble Fork Reservoir in American Fork Canyon, was released. According to PR Web.com, "Nearer My God to Thee" is "a serene music video capturing the peace and naturalness of its surroundings" and was inspired by everyday people and their answers to the question, "What brings you nearer to God?"
Camille Nelson was born and raised in Salt Lake City, Utah, and comes from an immensely talented and musically inclined family. She is the youngest of six children. Her father was a violinist, and her mother was a professional opera singer. She signed with Paul Cardall's label, Stone Angel Music in early 2017 and worked with Trevor Price as the Engineer and Producer of Lead Me Home. Commenting on the musical artistic abilities of Camille, Paul Cardall, Executive Producer, said, "Camille is a rare find for a label. Her classical training, songwriting gift, fun personality, and optimism make her a natural fit for Stone Angel Music." She shares the prestigious Billboard chart with The Piano Guys who took the No. 1 spot in the same category.