Dave Crosby is the father of the amazingly talented 4-year-old YouTube sensation, Claire Ryann Crosby. Many people follow Claire's adventures through her YouTube videos on her family's YouTube Channel called Claire and the Crosbys. By following Claire, viewers have also come to know a little about her family as well. In one of their most recent videos, they announced that there is going to be a new addition to the family. Claire and her brother Carson's reactions are adorable.
In January 2016, then 3-year-old Claire Ryann Crosby became a YouTube sensation when her rendition of "Part of Your World" from Disney's The Little Mermaid went viral. On Monday, 21 March 2016, Claire returned with her inspirational cover of "Gethsemane" which also went viral. While many people know of Claire's love for music and singing, they may not realize that Dave Crosby is also a talented musician and singer in his own right.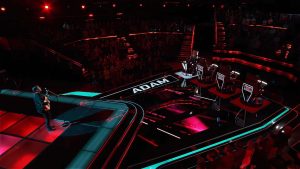 On Monday, 25 September 2017, Dave appeared on NBC's reality television show The Voice. For his blind audition, he chose to sing "I Will Follow You into the Dark" by Death Cab for Cutie, getting Adam Levine, Blake Shelton, and Miley Cyrus to turn their chairs.
He shared his motivations for singing with the judges, all the while, revealing his relationship with Claire. He said, "I had kind of given up on music about four years ago when I held my little daughter for the first time. And turns out, she turned out to be just an incredible little singer for a 4-year-old and she made a couple viral videos."
When it finally occurred to judge Adam Levine who Dave is, he was on cloud nine. He commented, "When I had my baby girl, that was one of the most amazing moments of my life. And someone sent me that video and I lost it. I'm so happy you realized that you should never have given up on this because if you had given up on this, that never would have happened. What a beautiful thing. I can't believe that it's you, that dude from the video, standing in front of me right now. I'm blown away."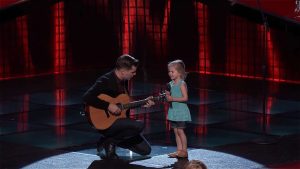 Claire joined her dad on stage, winning the hearts of all the judges, and sang part of the song "You've Got a Friend in Me."
Dave chose to be a part of team Adam as he advances on the show. Levine told him, "I think that responding to beautiful music should be an impulsive decision. The purity and the beauty of your voice are irreplaceable and I really want to be a part of that."
It will be exciting to see how far Dave Crosby will go on this amazing adventure.
Update: Dave Crosby is Eliminated in the Battle Round
On Tuesday, 17 October 2017, Dave Crosby's journey on The Voice came to an end. He went head-to-head in the Battle Round against Dylan Gerard (also LDS). The performance was only shown in the battle montage. Adam Levine chose Gerard as the winner of the round, stating he was "choosing the person who I feel, there is still this unknown." Gerard will now move on to perform in the upcoming Knockout Round. Dave later posted on Instagram: