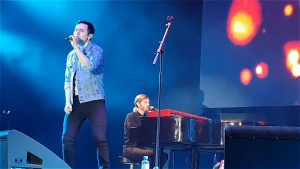 As Christmas Day approaches, people are busy looking for that one perfect gift to put under the tree for someone they love. However, Christmas is more than brightly packaged gifts under a tree. The true joy of Christmas is found in the heart, and so, the best gift that we can give anyone is our love. One of the ways that we can show our love is by rendering service to those in need. The service that we give does not have to be grandiose as a simple act of kindness in helping another in need can go a long way.
This year The Church of Jesus Christ of Latter-day Saints has relaunched its #LightTheWorld initiative. Church members all around the world are becoming actively involved in service projects that will benefit those who are perhaps less fortunate than themselves. One of those active participants is world renown entertainer, David Archuleta.
David Archuleta recently returned from a trip to Lima, Peru where he performed a concert in Green Arena on Friday, 1 December 2017. While in Peru, he took time out of his busy schedule to visit an orphanage the morning after his concert. Later that day, he visited with the Area President for The Church of Jesus Christ of Latter-day Saints, Elder Carlos A. Godoy, and more than 400 youth, for a fireside where he discussed the importance of service, missionary work, and his personal journey to become more Christlike. The meeting was recorded and will be broadcast to all youth in the Area on 20 December 2017.
David was also a recent guest on LDS Perspectives Podcast he discussed his journey, his time serving as a missionary for the Church, and his efforts to serve others.
On Tuesday, 12 December 2017, he will join The Piano Guys, Claire Ryann Crosby, Dave Crosby, Peter Hollens, Nathan Pacheco, Taylor Davis, and Tiffany Alvord for a special YouTube Livestream – #LightTheWorld Live Concert. The event will be broadcast from The Piano Guys' YouTube channel at the YouTube Space in New York City from 5:00 pm EST until 6:30 pm EST.
#LightTheWorld with David Archuleta!

Excited to join The Piano Guys, Peter Hollens, Lexi Mae Walker, Nathan Pacheco, Taylor Davis, Claire Ryann Crosby, and Tiffany Alvord this Tuesday, December 12th! RSVP to WATCH US LIVE ONLINE at the event here! https://www.facebook.com/events/323051078178377/. It all starts a 5PM ET/2PM PT. It's gonna be a great show!If you're already in the New York area, I have one pair of tickets to give away so you can see it live. All you have to do is share a video or photo telling me about any service you have done using the hashtags #LightTheWorld and #PianoGuysNYC to enter! I'll be announcing the person who gets the pair of tickets on Monday. Good luck!

Posted by David Archuleta on Sunday, December 10, 2017