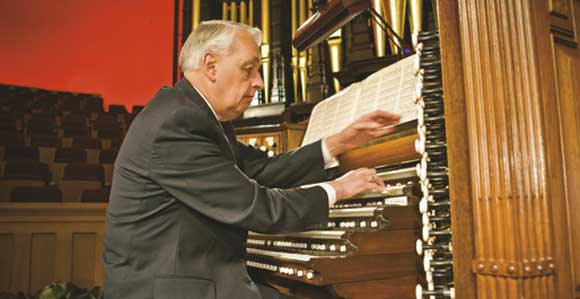 After 36 years of playing the organ at general conference, Clay Christiansen will officially retire later this month. His last performance, which ended with a standing ovation by the Mormon Tabernacle Choir and others present in the Conference Center, was during the Sunday morning session of the 188th Annual General Conference of The Church of Jesus Christ of Latter-day Saints on 1 April 2018.
Deseret News reports that "Christiansen acknowledged the applause by raising his arms in gratitude and nodding a silent 'thank you,' first to the choir and then to the audience." On Sunday evening, he told Deseret News, "It chokes me up. It's all a great labor of love and I feel like the most blessed man on the face of the earth to have been part of it for over 35 years. I'm going to miss it. I'm so thrilled at the wonderful hands that the choir is in, both with organists and conductors, and I'm excited for what the future will bring to the (LDS) Church and to the world through them."
One of six Mormon Tabernacle Choir organists, Christiansen was hired in 1982 and has played for the choir's weekly Music and the Spoken Word broadcast for more than 35 years, including 72 general conference weekends. He was blessed to have his last broadcast and conference session include some of his favorite pieces like "Consider the Lilies." He said, I'm going to miss being in the best seat in the house to hear that marvelous sound."
Christiansen also mentioned that performing with the choir in Israel, the thunderous applause received at the American Choral Director's Association national convention in Los Angeles and the choir's recent tour to Europe where he and other organists played some of the world's most historic organs are among his "mountain top" experiences.
Even though he is moving on, Christiansen will continue to play the organ to "stay in shape." He is getting an organ for his home, and he has more out-of-town engagements than he has had in the past several years. A year from now, he is looking forward to performing at the Octave of Easter Celebrity Recital at the Basilica of the National Shrine of the Immaculate Conception in Washington D.C., a flagship Roman Catholic Church in the United States. His wife tells everyone, "He's not retiring. He's never going to retire."