The Church of Jesus Christ of Latter-day Saints does not condone same-sex marriage. However, Dan Reynolds, the frontman of the Grammy-winning band, Imagine Dragons, believes that the Church's official position does not mean that its members should ostracize the LGBTQ kids in their homes and communities. In fact, he insists that the LDS Church is facing a major crisis of teen depression and suicide.
Dan is himself a member of The Church of Jesus Christ of Latter-day Saints. He even served a full-time mission for the Church in Nebraska. Now, because of his personal stance concerning LGBTQ youth, he is on a new mission – "to change his church from the inside out" – and has become an avid promoter of gay rights. In an interview with Time, Dan said, "To our LGBTQ+ youth, I'd say: I'm here in any way possible. I promise to be the best missionary I can — a Mormon missionary for the LGBTQ community — and to hopefully use this privilege I've been given to give them a voice."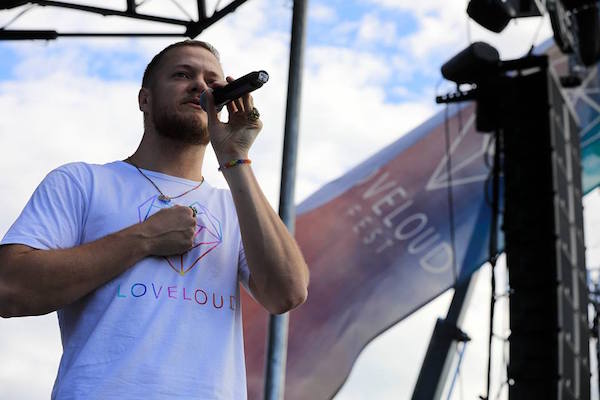 On Saturday, 26 August 2017, he spearheaded a first-time music event aimed at supporting LGBTQ youth charities called LoveLoud. The event, attended by more than 17,000 people, was held at Utah Valley University's Brent Brown Ballpark in Orem, Utah. It generated about $100,000 for five charities that support LGBTQ+ youth and provide them with suicide prevention services. Dan was also featured in a new documentary film titled Believer which premiered at the Sundance Film Festival in 2018 and is now part of HBO Documentary Films. And, one of Imagine Dragons' songs, "It's Time," was featured in an episode of the Glee television show when the series' gay character, Blaine, sang the song to his boyfriend, Kurt.
Dan returns to Utah on Saturday, 28 July 2018, to headline the second annual LoveLoud music festival, which will be held at Rice-Eccles Stadium at the University of Utah in Salt Lake City, Utah. He told Deseret News that about 30,000 of 42,000 tickets have been sold, and he is hoping that drawing a bigger crowd in a larger stadium will create a $1 million windfall for LGBTQ youth suicide prevention efforts. Dan and his band Imagine Dragons will be joined by major music acts like Zedd, Linkin Park's Mike Shinoda, and young star Grace VanderWaal. All proceeds from the event go towards LGBTQ+ charities. He told Deseret News that his goal "is for LoveLoud to be a reminder that we need to do better, and we need to love those who are most at risk and already in a tricky position." The festival's host will be Cameron Esposito, a stand-up comedian, actor and writer who hosts the podcast "Queery."
Dan has been in regular contact with people at church headquarters in Salt Lake City, Utah, since the first LoveLoud music festival. He told Deseret News that their patience with him has been "eye opening," and he feels reassured that despite disagreements between him and the Church, they are able to meet on the common ground of understanding of the love they both have for LGBTQ+ youth.
LDS Church leaders issued a statement in response to a request for comment about next week's festival. The statement reads:
We remain committed to support community efforts throughout the world to prevent suicide, bullying and homelessness. Every young person should feel loved and cared for in their families, their communities and their congregations. We can come together, bringing our perspectives and beliefs, and make each community a safe place for all.

God's message is one of hope and we want our LGBT brothers and sisters to know that they are loved, valued and needed in His church.
Deseret News reports that experts say each individual suicide typically arises from a combination of factors. Furthermore, suicides are now the 10th-leading cause of all deaths in the United States, and the leading cause of death for Utah young people ages 10 to 24.
Dan further commented:
I think anybody with a heart can agree we want to help those at-risk youth. That's where the conversation begins. I'm always thrilled, and my heart is so ecstatic to know that the church is willing to come to the table, even knowing that we may not agree completely on doctrines.

When the church says, we support these efforts to love our LGBTQ youth and to talk about how we all can be better, that's pivotal to me. The difference it makes cannot be measured.
35,000 Fill University of Utah's Rice-Eccles Stadium for 2nd Annual LoveLoud Music Festival in Support of LGBTQ+ Youth
Dan Reynolds, lead singer for Imagine Dragons, who speraheaded the event said that he looks forward to the day when LoveLoud will not have to exist.  According to Deseret News, in a press conference before the festival began, Dan commented, "To me, the LGBTQ youth that I've spent time with say their biggest desire is for this not to be a thing. To not to continually have to explain why they love who they love." The message behind the event is "live loud and love loud," and for now, the festival that is meant to be a safehaven of love and acceptance of LGBTQ+ youth will continue each year until it is no longer necessary to have them. The goal was to raise $1 million for local and national charities that support members of local and national LGBTQ communities and that goal was met.
On Friday, 27 July 2018, Governor Gary Herbert announced that he is dedicating July 28th as LoveLoud Day in Utah. ABC4Utah.com reports, "LoveLoud is the catalyst for bringing communities together to start the conversation and celebrate individuality by talking, sharing, and showing." Stephanie Larsen, an event organizer and the executive director at Encircle, said, "There are times when you need to turn up the volume and love loud." Steve Eliason, a U.S. House Representative, said, "I will love you forever and for always because you are my dear one. That's the message that we need to get across to all of our youth to let them know that they are loved no matter what."
At the LoveLoud kickoff party, Lieutenant Governor Spencer Cox revealed Governor Herbert's dedication. He said, "We need to encourage the relevant and vital conversations about what it means to love each other unconditionally, understand our differences and include and support our LGBTQ plus friends and family members. We refuse to tolerate any kind of bullying or intimidation and we raise our collective voices in opposition to such conduct."
The lineup of featured artists included appearances by Zedd, Linkin Park's Mike Shinoda, Grace Vanderwaal, Neon Trees' Tyler Glenn, Vegabon, Tegan and Sara, and others, along with a finale by Imagine Dragons. Apple CEO, Tim Cook, who is openly gay, was the headline speaker. He introduced Imagine Dragons by sharing a message of self-love and acceptance to the packed stadium. He said, "You are a gift to the world. A unique and special gift, just the way you are. Your life matters. … My heart breaks when I see kids struggling to conform to a society or a family that doesn't accept them. Struggling to be what someone else thinks is normal." He continued, "Let me tell you. 'normal' just might be the worst word ever created."
Winded from opening his set with the song "Radioactive," Dan Reynolds told the oncertgoers, "I wish you could see how much we care about you, how much we love you, how much we support you. I accept you, I see you, I stand with you, I fight with you until the end. May Utah go down as being the first state to be the absolute lowest suicide rate."