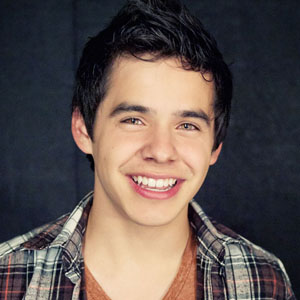 David Archuleta has announced new dates for his fall US tour which will feature music from his new EP Leo which was released on 25 August 2017, his EP Orion released on 19 May 2017, and more. Concerts are scheduled for Sellersville, Pittsburg, Cincinnati, Minneapolis, Kansas, and Nashville, to name a few of the cities, with more dates to be announced soon. This Saturday, 23 September, David is scheduled to perform at DeJoria Center in Kamas, Utah.
In addition to his upcoming fall tour in the US, David is also planning a return trip to Quezon City, Philippines, on 20 October 2017 when he will be appearing at the Kia Theater produced by Ovation Productions. It has been six years since his last visit when he performed at the Araneta Coliseum which was also produced by Ovation Productions. He announced his upcoming concert to his Filipino fans through a video on his Facebook page that instantly went viral. David first visited the shores of the Philippines in 2009, in a back to back concert with American Idol winner, David Cook.
David is excited to be touring and sharing his music again. He made a powerful comeback with his much-anticipated single "Numb" which hit the airwaves in November 2016. He has said, "This is like a new beginning. It's not just taking another chance with music, it's taking another chance on myself. … I need to be who I am or else I'll go numb again."
With the release of his new music, David is being more honest and open about his feelings as he discovers who he is as an individual and a musician, making his new sounds more authentic and unique. Speaking about his new music, David admits that he has always felt the need to be "perfect" and "invincible" which were the root causes of his inner battles. He is learning to counteract these doubts by telling himself "It's OK, you can let go. Let the armor down. Put the sword away." He has said, "Music has to have a purpose now for me, and that's really motivated me moving forward." His EP Orion and his EP LEO are two parts of a three-part EP series that he is hoping to release.
According to Wish 107.5, "The musical sensation has released six albums, crafted a memoir called Chords of Strength: A Memoir of Soul, Song, and the Power of Perseverance, and remained close to the hearts of Filipinos after starring in a TV mini-series in the country."
David's Upcoming Concerts and Events

| City | Venue | Date |
| --- | --- | --- |
| Kamas, UT | DeJoria Center | Friday, 23 September 2017 |
| Quezon City, Philippines | Kia Theatre | Friday, 20 October 2017 |
| Sellersville, PA | Sellersville Theater | Wednesday, 25 October 2017 |
| Pittsburgh, PA | Club Cafe | Thursday, 26 October 2017 |
| Cincinnati, Ohio | Live At The Ludlow Garage | Friday, 27 October 2017 |
| Minneapolis, MN | The Cedar | Tuesday, 31 October 2017 |
| Indianapolis, IN | HiFi | Wednesday, 1 November 2017 |
| Kansas City, MO | Knuckleheads | Thursday, 2 November 2017 |
| Nashville, TN | Franklin Theater | Saturday, 4 November 2017 |
| Pocatello, ID | Idaho State University | Saturday, 18 November 2017 |
| Mesa, AZ | Mesa Arts Center | Saturday, 14 April 2018 |
| Austin, TX | One World Theatre | Friday, 20 April 2018 |