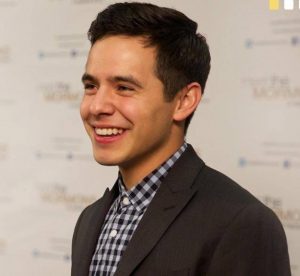 In the spring of 2012, world-renowned singer and entertainer, David Archuleta, made the heart-searching decision to put his successful music career on hold for two years as he left to go serve a mission for The Church of Jesus Christ of Latter-day Saints in the Chile Concepción Mission. There were many people, including his management, who tried to discourage him, but David knew that it was something that he needed to do for himself. It was a decisive moment, and a major turning point in his life, that helped him find his true self away from the daily pressures of the entertainment business.
Despite the negative feedback that David received about his decision, loyal and devoted fans patiently awaited his return and the new music that he would produce. On Friday, 20 October 2017, the long wait came to an end. On that day, David Archuleta released his first full-length album since 2013. The 16-track album is called Postcards in the Sky. Unlike his previous releases, this album has more of a personal touch as David shares through his songs his story of discovering his own voice in music.
However, what some of his fans may not realize is that David seriously thought about walking away from his flourishing music career. In part 2 of an interview with Idol Chatter, he commented, "I felt I had discovered a new part of me as a missionary. When I came back to the music world, I felt the missionary self and the old self before my mission were clashing. I wasn't either of them anymore, but I felt I had to still choose between the two of who I was now allowed to be." He continued, "I still struggle with being motivated to move forward — I always have, with old me, missionary me, and current me — but part of this challenge to stay motivated to keep going is exactly what I've written about. That I don't have to be invincible to keep trying and pushing forward."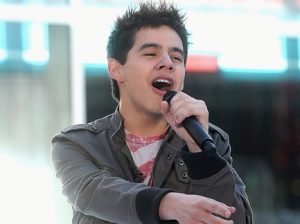 Idol Chatter reports that this time around, David's songs are "more endearing and heartfelt." One song in particular, "I'm Ready," was written by David after being inspired by his friend, 21-year-old Annie Schmidt (daughter of Jon Schmidt of The Piano Guys), to finish the song. Sadly, Annie died in an accidental hiking accident before she could hear the final version. As a tribute to Annie, David decided to end the song with tape recordings from her.
During the interview with Idol Chatter, David was asked, "How would you compare the new music you've released this year with the music you released previously?" He said, "I felt with other albums I've done, I was more the interpreter, trying to put myself in other writer's shoes or play the character I thought they wanted me to. I experimented being myself before like on the album The Other Side of Down. But this time I challenged myself to completely be me and express what was in me."
David also shared the backstory of the previously unreleased track called "Upset with Me." He said:
"Upset with Me" is probably the most personal song. For a few months, I wasn't going to put it on the album. I felt awkward showing such a vulnerable part of my life, but at the same time knew my goal was to be true about my weaknesses and my challenges.

I also felt it would be pointless as I'm not in that place anymore, but thought it would still be important to show a piece of my past and encourage people who may be in a place of abuse, whether emotional like in my case or physical, that they can find help and strength to escape and overcome. I have healed, I have become stronger, and I have the power to speak up now.
David's new CD Postcards in the Sky is available on Amazon, Spotify, and iTunes. His upcoming tour dates and schedule are available here. More information about David Archuleta can also be found on his official website. And, he has also announced that he will be performing a concert in Lima, Peru, at Green Arena on 1 December 2017.