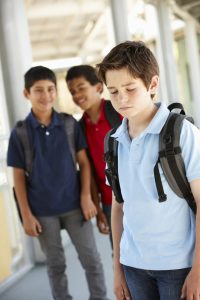 One dictionary definition of the word bully is "a person who uses strength or power to harm or intimidate those who are weaker." To bully someone then, is to "use superior strength or influence to intimidate (someone), typically to force him or her to do what one wants." Another word for "bully" is oppressor.
Bullying takes on many forms and is wrong on many different levels. Bullying exists in the schools and institutions of learning, the workplace, the public square, in homes, and even within the walls of churches. It is never right to treat someone as though they are beneath us simply because they are different.
World renown entertainer, David Archuleta, recently joined Chris Evans, Snoop Dog, Katy Perry, and other celebrities, to show his support of a middle-school boy's anti-bullying plea. On Friday, 8 December 2017, the mother of Keaton Jones, a middle-school boy from Tennessee, posted a video of Keaton sharing the experience that he had at his school when kids poured milk on him and put ham down his clothes. They also threw bread at him and made fun of his nose, calling him ugly. The video has since gone viral on social media with more than 22 million views, and has gained the attention of celebrities and sports stars alike.
According to LDS Living, in the video Keaton commented, "It's not okay. . . people that are different don't need to be criticized about it." In response, David Archuleta and many other celebrities took to social media to show their support for Keaton by tweeting messages. Not only did they show their support through messages, but Keaton has received offers to attend movie premieres and sports events with various celebrities and sports stars. Some have also offered to walk him to school or to talk to the bullies themselves.
According to Sports Illustrated, "Tennessee quarterback Jarrett Guarantano got a chance to meet with Keaton Jones just days after the Knoxville, Tenn. boy went viral on the internet for breaking down in tears explaining the struggles as a victim of bullying."
So I got the chance to spend the day with my new best bud Keaton. It was unbelievable to get to know him and realize that we have a lot in common. This dude is very special and has changed my life forever. Now I have the little brother I always wanted! God bless you my man pic.twitter.com/vMHVtnf2rC

— Jarrett Guarantano✞ (@BroadwayJay2) December 11, 2017
Chris Evans, an American actor and filmmaker known for his superhero roles as the Marvel Comics characters Steve Rogers / Captain America in the Marvel Cinematic Universe and Johnny Storm / Human Torch in Fantastic Four and its 2007 sequel, tweeted:
Stay strong, Keaton. Don't let them make you turn cold. I promise it gets better. While those punks at your school are deciding what kind of people they want to be in this world, how would you and your mom like to come to the Avengers premiere in LA next year? https://t.co/s1QwCQ3toi

— Chris Evans (@ChrisEvans) December 10, 2017
And David Archuleta tweeted:
David also shared in another tweet, the Mormon Messages video "Bullying – Stop It."