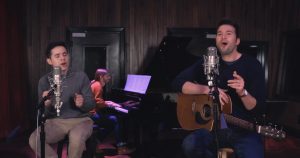 On Wednesday, 14 February 2018, Valentine's Day, two world-renowned LDS music artists, David Archuleta and Nathan Pacheco released an awe-inspiring and heartfelt bilingual cover for Ed Sheeran and Andrea Bocelli's version of the song "Perfect." The harmonious blend of their voices with the added spice of Italian makes for the perfect love ballad.
David begins in English, telling the beautiful love story of two childhood sweethearts, and then Nathan adds the magic to the story with his amazing tenor voice, continuing the story of the budding relationship in Italian. Perhaps love is blind, or as the Italians say, "L'amore è cieco," but some also say life is a dream ("La vita è un sogno"), and David and Nathan combine both thoughts perfectly with their enchanting duet.
Originally released in September 2017, Ed Sheeran's hit song "Perfect" became the United Kingdom's Christmas No. 1 following its domination at the top of the charts. Although the song was originally penned by Sheeran, the only other person to have songwriting credits linked to the song is Italian tenor, Andrea Bocelli, who collaborated with Sheeran on a remastered version of the song titled "Perfect Symphony," helping to write some of the changes. Sheeran's brother, Matthew, holds credits on the song for helping to pen the music by adding a string section to the song which was minimalized in the original release but is in its full form in the remastered version by Sheeran and Bocelli. The song is dedicated to Ed's fiancé, Cherry Seaborn.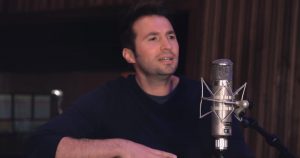 Nathan Pacheco graduated from the music program at Brigham Young University (BYU) and followed his love of culture and languages by continuing his education abroad in South America and Europe. He spent more than two years in Brazil, being immersed in its culture, allowing its influence to contribute to his musical development. With the passion of a poet, Nathan expresses his love of languages by writing lyrics in Italian, Portuguese, and Spanish. He has a passion for reaching out and uplifting people through his music. He has performed before worldwide live audiences including a 100 concert tour throughout the United States, Mexico, and Canada with Greek composer, keyboardist, pianist, and music producer, Yanni. And he has also toured with Puerto Rican recording artist, Olga Tañon and performed with Katherine Jenkins, a Welsh lyric mezzo-soprano, singer and songwriter, and the National Symphony Orchestra.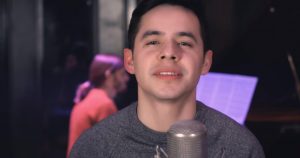 After rising to global success from American Idol, David continued to release albums, including The Other Side of Down (2010), Begin (2012), and No Matter How Far (2013). His most recent release is titled Postcards in the Sky (2017). Taking a two-­year break from his music career, David served a full time mission for The Church of Jesus Christ of Latter-day Saints in Chile. After returning from his mission in March 2014, David incorporated what he learned and felt on his mission into his music and career. Not only does he include singing in Spanish, but he also uses his social media platform to share his beliefs.
Many will remember that Nathan Pacheco and David Archuleta collaborated in December 2015 with the release of their inspirational duet for the song "The Prayer" which they also sung in English and Italian.