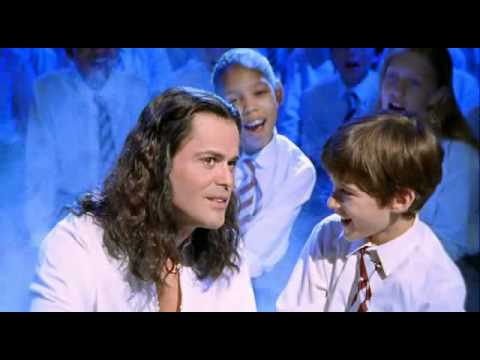 The story of Joseph and his "cost of many colors" as recorded in the Bible in the Book of Genesis is the backdrop for the great Tim Rice and Andrew Lloyd Webber musical Joseph and the Amazing Technicolor Dream Coat. Stage productions for the musical began in 1970 and recordings of the same were expanded in 1971 and 1972. In the process of revising and expanding, the musical was produced in the West End in 1973. It was recorded in its full format in 1974 and opened on Broadway in 1982. The musical opened in Toronto at the Elgin Theatre in July 1992, with Donny Osmond as Joseph and Janet Metz as the Narrator. Several more revisions followed, and in 1999 a straight-to-video film starring Donny Osmond was produced.
The world-renown singer and entertainer, Donald Clark Osmond (Donny) need no formal introduction. He has been performing and entertaining audiences for over 50 years. Donny began his career singing with his brothers – Alan, Wayne, Merrill, and Jay – as a young boy. On 10 December 1963, at the age of 5, he made his debut with his brothers on the Andy Williams Show. They sang "Yes Sir, That's My Baby" together. Donny went on to become a teenage heartthrob with such songs as "Go Away Little Girl," "Puppy Love," "Sweet and Innocent," and "Too Young." By the age of 14, he had released his debut singles as a solo artist and started performing around the world. The highlight of his decades-­long career was, perhaps, his many-­year run as the star in the musical production of Joseph and the Amazing Technicolor Dream Coat but The Donny and Marie Show with sister, Marie Osmond, comes close.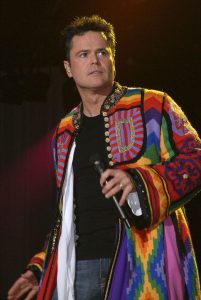 Being the world-class entertainer and personality that he is, during one of his shows while in concert in Brighton, England, Donny invited 11-year-old Matthew English to join him on stage to sing "Any Dream Will Do" from Joseph and the Amazing Technicolor Dream Coat. He also presented Matthew with a dream coat.
Matthew grew up watching Donny Osmond since he was three or four years old. Before Donny called him up on stage, he read a note that Matthew had written which says, "I grew up watching you in Joseph [and the Amazing Technicolor Dream Coat] and always wanted a dream coat. I know all your songs." Matthew, who is also hearing impaired, thanked Donny for all his work with The Hearing Fund, a charity inspired by Donny's mother, the late Olive Osmond. Her dream was to "bring music to [the] ears" of the deaf and hearing impaired. Matthew wrote, "I would really like to thank you because I'm hearing impaired and The Hearing Fund has so helped me."
Per the LDS Living article, Donny wrote the following in a post on Facebook, "It was one of the coolest moments ever when 11-year-old Matthew English joined me on stage to sing "Any Dream Will Do." He's been singing it ever since he was about 5 and plays the violin to it as well. He reminds me of my grandson Dylan. This was pretty special."