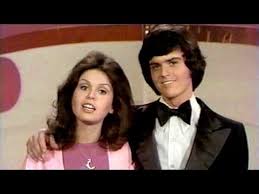 Donald Clark Osmond was born on 9 December 1957 in Ogden, Utah. His sister Olive Marie Osmond was born on 13 October 1959, also in Ogden, Utah. Donald (or Donny as he is professionally known) was the fifth child and Marie (as she is professionally known) is the eighth child born to the late George Virl Osmond, Sr. and Olive May Osmond (nee Davis). 
The brother-and-sister pop duo has been performing together before live audiences for more than half a century. Whether performing with their family, as solo acts or together as the brother and sister team that America has come to know and love as Donny& Marie, they have impressed audiences of all ages worldwide with their charm, charisma, smiles, and multi-talents.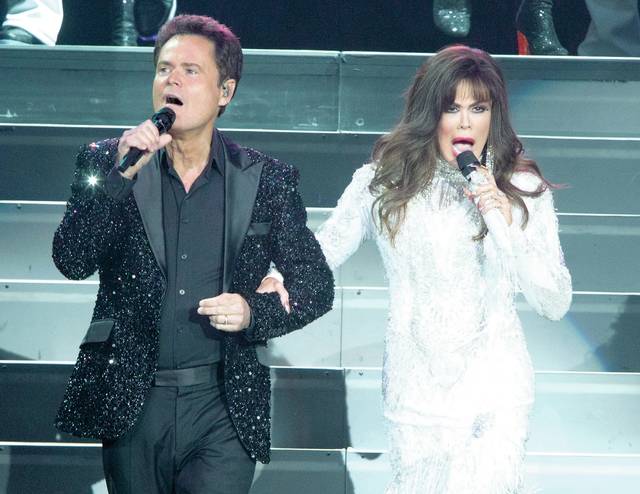 The performing duo won the hearts of the nation when their variety show, The Donny & Marie Show, made its debut on 23 January 1976 on ABC. The show had a successful run for 78 episodes, with the final episode airing on 19 January 1979. Through the years since The Donny & Marie Show, the brother and sister have continued to perform together at various times. They were originally signed in Las Vegas for six weeks. Nevertheless, for the past 11 years, they have performed together at the Flamingo Resort in Las Vegas, Nevada. On Thursday morning, 21 March 2019, on the show Good Morning America, they announced that they are ending their Las Vegas show on 16 November 2019.
Donny Osmond appeared on season 1 of Fox's The Masked Singer, a top-secret singing competition in which celebrities face off against one another while shrouded from head to toe in an elaborate costume, concealing their identity. He finished in second place, revealing himself as The Peacock. Marie Osmond also has a pretty busy schedule. Starting on 9 September 2019, she will star in the CBS daytime show The Talk as a permanent co-host.
During a ceremony held at the Flamingo Resort in Las Vegas, Nevada, on Friday, 23 August 2019, Clark County Commissioner Marilyn Kirkpatrick and Caesars Entertainment Chief executive Secretary Tony Rodio presented Donny and Marie with a key to the Strip. After the ceremony, Marie who has lived in Las Vegas during the residency said, "I can't really say what's next, but right now I can't really think past December. I just love it here, my home is here and I want to stay." In a Facebook post later that day, Marie wrote, "We're so thankful for this city and all the love we've felt here through the years. Viva #LasVegas!! Thank you for honoring us with the #KeyToTheLasVegasStrip." Donny also wrote a Facebook post in which he said, "We are grateful to the hundreds of people who have worked day-in and day-out to make this show a success for the last 11 years. And most of all, we appreciate our incredible fans. We couldn't have done this without you!"
Donny, who has commuted from his home in Utah to Las Vegas during the residency at the Flamingo Resort has expressed no interest in continuing a residency show on the Strip. He is currently busy working on his 62nd album, which is a compilation of cover songs, including "The Long and Winding Road" by the Beatles and "Ben" by the Jackson 5. He said, "I don't want to pin myself in with a timeline, but I want it done by the end of the year. I am really looking forward to everyone hearing it."
On 4 October 2019, Donny and Marie Osmond will be honored by The Las Vegas Walk of Stars with their own star. In a recent Instagram post, Marie wrote, "I have both lived and worked in Las Vegas for over 10 years @flamingovegas and consider it my home. Nothing makes me happier than to celebrate this city that means so much to my family. Thank you to the Las Vegas Walk of Stars and all of our fans who have made this possible." Donny added in his Instagram post, "Las Vegas has become my home away from home, and the people I've met here are an extension of our family. I'm thrilled to celebrate alongside the city that means the world to me."