On Monday, 9 September 2019, beloved President and Prophet of The Church of Jesus Christ of Latter-day Saints (often mistakenly referred to as "the Mormon Church"), President Russell M. Nelson, will celebrate his 95th birthday. Latter-day Saint musicians like Donny Osmond, Nathan Pacheco, Jenny Oaks Baker & Family Four, GENTRI, and The Bonner Family will perform along with the Tabernacle Choir and Orchestra at Temple Square in honoring President Nelson's life of service. 
According to Newsroom, the influence of the Savior in the life of President Nelson and his lifelong service in The Church of Jesus Christ of Latter-day Saints will be celebrated. The program will begin at 8:00 pm MDT in the Conference Center in Salt Lake City, Utah, on Friday, 6 September 2019. 
Those who wish to view the live broadcast will be able to do so by going to the official Church website at ChurchofJesusChrist.org and the Church's Facebook page and YouTube channel. Additional channels and broadcast and rebroadcast times are pending. The program will be rebroadcast in seven languages, including English, Spanish, Portuguese, French, German, Mandarin, and ASL. Tickets for the event will be available beginning Tuesday, 30 July 2019, at 9 am MDT and will be limited to two tickets per individual.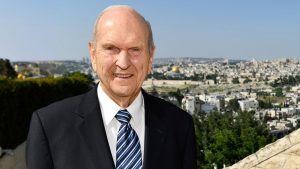 The Church News reports that former sportscaster and professional quarterback, Elder S. Gifford Nielsen, a General Authority Seventy, and former television news anchor, Ruth Todd, will emcee the event. Special videos will be shown that evening, focusing on how President Russell M. Nelson's career, family, and ministry have shaped him into who he is as a special witness of Jesus Christ. 
President Nelson was born 9 September 1924, in Salt Lake City, Utah. The former heart surgeon was called to the Quorum of the Twelve Apostles in April 1984. He also served as the Sunday School general president. President Nelson became the 17th president of The Church of Jesus Christ of Latter-day Saints in January 2018.