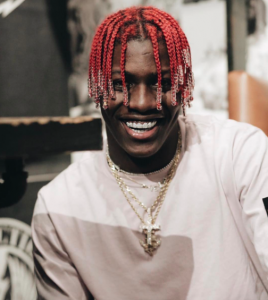 Meet 20-year-old (born 23 August 1997) Miles Parks McCollum. He is an American rapper and singer who is professionally known as Lil Yachty. He first gained recognition in August 2015 for his singles "One Night" and "Minnesota" from his debut EP, Summer Songs. In March 2016, he released his debut mixtape Lil Boat. He also released his mixtape, Summer Songs 2, in 2016, and his debut studio album, Teenage Emotions, was released in 2017. On 10 June 2016, Lil Yachty announced that he had signed a joint venture record deal with Quality Control Music, Capitol Records, and Motown Records. And on 9 March 2018, his second studio album, Lil Boat 2, was released.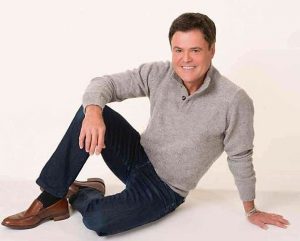 Now, meet the man who really needs no introduction – Donald Clark Osmond. Donny Osmond has been entertaining worldwide audiences for more than half a century.  He began his career singing with his brothers as a child and fast became an international breakout teenage heartthrob, appearing on the cover of all the major teen magazines, and gaining recognition with songs like "Sweet and Innocent," "Go Away Little Girl," "Young Love," and "Puppy Love." At the young age of five, he made his television debut on the Andy Williams Show. His brothers – Alan, Wayne, Merrill, and Jay were already regulars on the show. Donny also starred in a hit family show with his younger sister Marie, appropriately called the Donny and Marie Show. With countless recordings, tours, awards, and appearances to his credit, Donny Osmond is an international sensation.
So, what happens when you pair a millennial rapper and a '60s heartthrob to create a commercial-meets-music video? Chef Boyardee discovered that the result is nothing less than awesome. In celebration of their 90th-anniversary rejuvenation campaign, the pasta company brought the two together to remix the brand's classic "Thank Goodness for Chef Boyardee" jingle. The Daily Meal.com reports, "The reason for the Osmond and Lil Boat banger-collaboration is the company's 'Throwback Recipe Series,' which is bringing back retro Chef Boyardee labeling and simpler ingredients."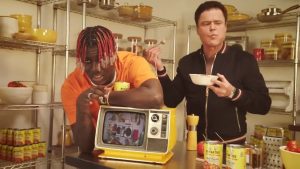 The Daily Meal also mentions that the retro recipe cans come in Beefaroni, Beef Ravioli, and Lasagna. The simplified ingredients are beef, Romano cheese, olive oil and a richer, thicker tomato sauce which dates to the previous Chef Boyardee recipe cans.
In the video, Lil Yachty rhymes, "Call up Chef Boyardee, he so ambitious/I need that beef ravioli oli-oli-oli-oli/Thank goodness, Chef Boyardee/Flavor so good, feed a whole family/Need another bowl for this girl and me." Donny Osmond also shows off his rapping skills, saying, "Donny Osmond shows off his rap abilities, saying, "My name is, Donny O/And you know, I love my ravi-os/I'm gonna let you know/ Sauce it up, sauce it up, here we go/Give me more cheese, life is a breeze."
Havas Creative Chief Creative Officer, Jason Peterson, commented, "This work pays tribute to the past and the future of the classic Chef Boyardee brand. We gave every audience, from baby boomers to millennials, something that they could relate to, formed an idea around it and released it in a modern way by doing a full-length music video."
The song, "Start the Par-dee," will soon be available to stream on Pandora and Spotify.