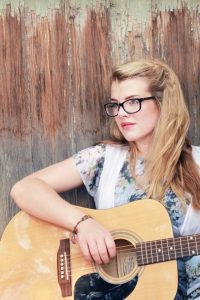 Hannah Sophia is an Indie singer/songwriter from Provo, Utah. Her music provides a fresh perspective in categories such as self-image, relationships, and personal fears. She also has a unique voice that draws her listening audience in, combined with simple, but evocative harmonies and well-crafted lyrics that invites them to stay for more. According to her official website, Hannah blends "the sweetness of Ingrid Michaelson and the grit of Brandi Carlisle" with her "confessional style" to deliver "an authentic and down to earth experience."
Raised in a family of devout music lovers, Hannah has been writing and recording music since she was 14. Some of the musicians who have influenced her music include Ingrid Michaelson, Regina Spektor, Brandi Carlisle, Rachael Yamagata, Erin McCarley, and Birdy. About her music, she has said, "After graduating from college, I sat down with my body of work and thought, 'How do I want to give this to the world?' I had songs that were among the very first I'd written, and others that were the product of a seasoned writer. As I listened to the recordings, a natural grouping started to form, and the songs melded into four cohesive sets – each one evoking a distinct emotional response. I knew I was sitting on 4 EP's, but I still didn't know how I would give them to my audience."
The music that she wrote spanned a period of eight years, however, those years were not spent perfecting a set of songs, but rather it was a time of growth for her – learning, writing, and living – as she tested boundaries and became a woman.
In time, a project that she calls "Seasons" was born. In striving to find a way to share her music and talents with the world she recalls, "My brain seems to constantly be working on such puzzles, and frequently provides the solutions as I lay in bed, waiting to drift into sleep. It was on one of these nights that the word 'Seasons' came to my mind. I tugged at the thought, and like a loose thread, the wall I had been up against unraveled. Each EP clearly fit into a season: Spring, Summer, Fall, Winter. The evolution of the music was beautifully illustrated by the shifting seasons."
The project was funded on Kickstarter, and beginning in January 2018, Hannah will be releasing a total of 18 songs in four EPs appropriately titled "Spring," "Summer," "Fall," and "Winter." It will be a year of music, art, and storytelling. "Spring" is set to release on 20 March 2018, "Summer" is scheduled to release on 21 June 2018, "Fall" is scheduled to release on 22 September 2018, and "Winter" is scheduled to be released on 21 December 2018.
Hannah says, "I hope that you can hear the journey." A book compiling the music, art, stories and lyrics will be released in November of 2018. You can learn more about Hannah Sophia and her project "Seasons" on her official website.