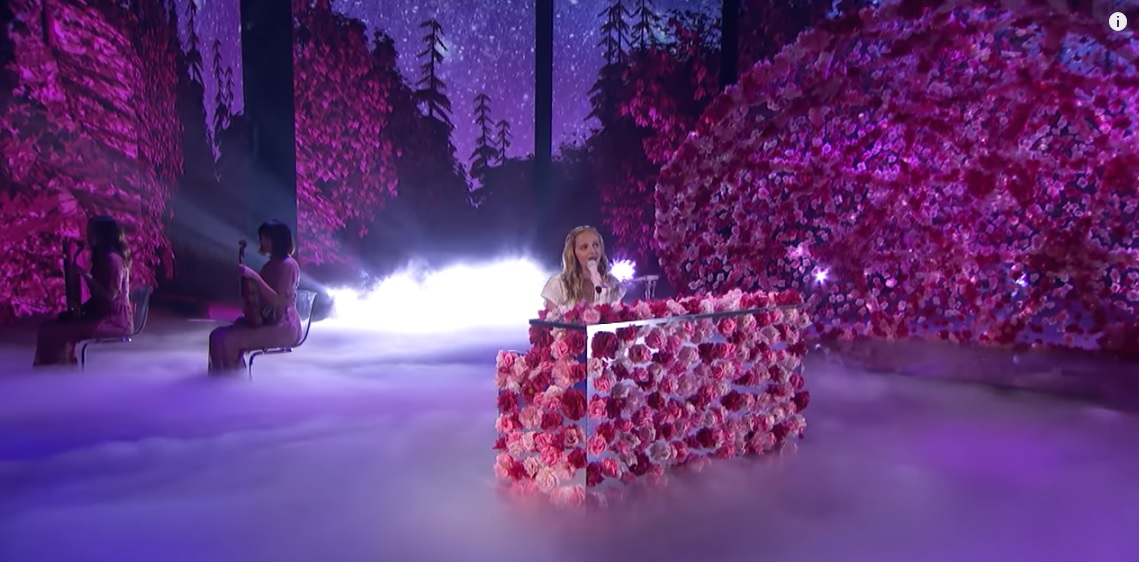 Despite all the challenges and hardships that she and her family have faced in recent months as her dad, Amos Ablanalp, lay in a hospital bed with stage four colon cancer, fighting for his life, 13-year-old Evie Clair continues to press forward. Each of her heartfelt performances has left both the audience and judges awestruck at her amazing musical talents.
For her first performance on the Live Shows of America's Got Talent, Evie delivered a beautiful rendition of "Wings" by Birdy which she dedicated to her parents who were celebrating their 20th wedding anniversary. Unfortunately, her father was unable to attend the performance and watched from his hospital bed. In an interview with Parade, Evie commented with certainty, "We were really hoping my dad was able to make it out of the hospital to be here. He's been in the hospital all week. We were hoping he would get released so he could come and spend the day with my mom, but things just didn't work out. We know that is all part of a bigger plan and everything is going to be all right."
When asked what she would do with the $1 million prize money if she won, she unselfishly replied that she would use the money to save her dad's life. She continued, "If my dad is better by the time the show is over, then I would use all the money to pay off all the medical bills and go to Disneyland. If he is not better by then, I would use it to go and find a treatment that works because there are, obviously, treatments out there that work, but they are far away and expensive." With her faith and tenacity, is it any small wonder that everyone she meets has fallen in love with her?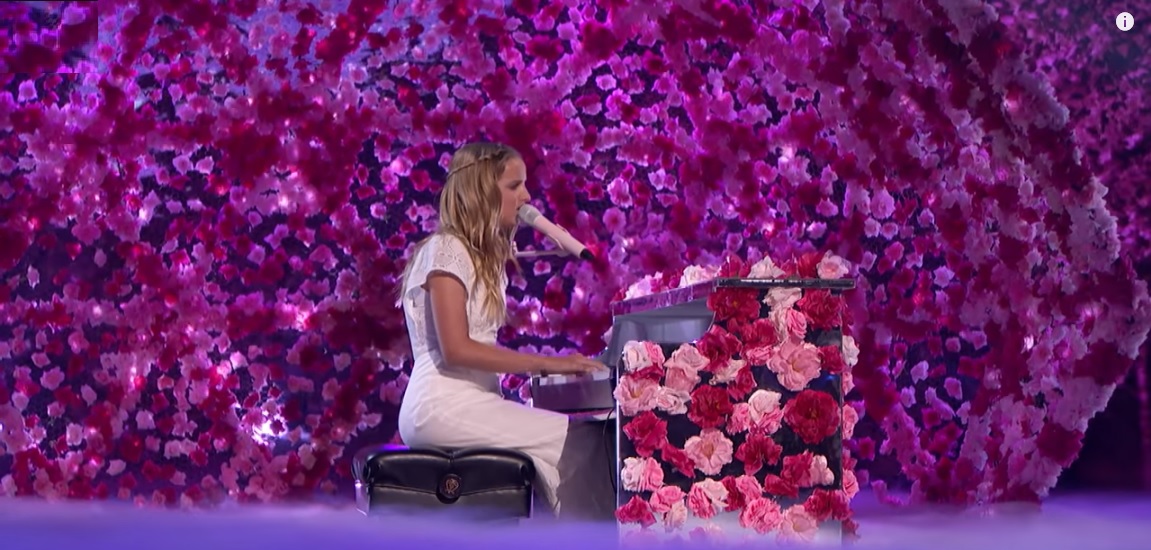 As soon as Evie finished her performance of her cover of "Yours" by Ella Henderson on America's Got Talent semifinals, two of the judges, Simon Cowell and Heidi Klum were on their feet giving her a standing ovation. Simon commented, "Evie, Evie, Evie. I've said this before, you are gutsy. You really, really are. And let me tell you something, this song was beautiful. Your voice was beautiful. . .. I know who wrote this song but you made it your version. Your tone, your pitch was stunning; it was laid back. And let me tell you, your dad is going to be so proud of you." Heidi added, "Even though we're in this big theater you made it very intimate. You made it very personal. You made it very, very moving for all of us. Evie, I'm very, very proud of you. Well done."
On 2 September 2017, Evie posted a request for prayers for her dad on Facebook as his condition worsens. Considering the new developments with Evie's dad, Mel B's comments were even more touching. She commented, "I think we forget you're already going through so much so I have to commend you on your courage and your confidence. Your voice is beautiful, you look beautiful and yes, your dad is so, so proud of you. I hope America votes for you."
Evie Clair's Father Passes Away
According to KSL.com, Evie Clair's father, Amos Ablanalp, was placed on life support on Tuesday, the day of the semifinals, right before Evie performed. He had been able to be there for Evie's audition and performances this summer, however, his condition deteriorated quickly and doctors said on Tuesday, that he only had days to live. Unable to attend any of Evie's performances, he continued to watch and support her from his hospital bed. Evie made the decision with her mom to stay for the results show, but producers made arrangements to send them home immediately following the show rather than the next day as planned. KSL reports that Evie's mother, Hillary, wrote in her family blog on Tuesday, "During this process, Amos filmed a section of video where he says he isn't afraid of dying but only afraid of not being there to see his children accomplish their goals. I feel he wants me here tonight for our beautiful daughter. We are both so happy to see her fill the world with light."
On Wednesday, Evie's mother posted, "We are so thankful to (the show's producers) for their kindness and understanding. Simon isn't the only one who gets emotional about Evie Clair. Dozens of producers and staff are going through this challenge with us and we love them for that."
On Thursday evening, she posted that the doctors had taken Amos off life support and that he had passed away. She further commented, "We watched him take his last breaths as he continued to breathe for about 15 minutes on his own. The children burst into tears but are now at home laughing at old home movies of daddy and remembering our great love for the most wonderful man any of us have ever known."
Evie will compete in the finals next Tuesday, which will be aired live on NBC at 7 p.m.
Judge Simon Cowell Unsure if Evie Clair Will Perform in America's Got Talent Finals
In a recent interview with Extra, Simon Cowell stated that was unsure if Evie would come back to the show to sing during the finals. He said that America's Got Talent has reached out to the family and told them that the decision to return to the show was strictly theirs. He added that if Evie decides not to return, she will certainly be welcomed to be a part of next year's competition. He further stated, "If she decides to come on the final then she has to do what she feels is right for her, but emotional doesn't even begin to describe it."
Evie recently testified in a Facebook post that "families are forever"  after posting an emotional photo of the funeral.
Evie Clair Honors Father by "Fighting to the End"
Two weeks after her father's passing, on Tuesday evening, 19 September 2017, Evie Clair returned to the stage of America's Got Talent dressed in white, and sang a beautiful rendition of Louis Armstrong's iconic "What a Wonderful World." The song was a special tribute to her dad who taught her to always follow her dreams. Before going on stage, Evie commented, "The happiest memories are my family gathered around the piano singing together. Music brought love and brought us closer together, even through the hardest times. My dad was one of the bravest people I knew. He always taught us to follow our dreams. My dad taught me after I started something to always finish it. That's why I'm fighting to the end just like he did."
All four judges of America's Got Talent were touched by Evie's performance and gave the 13-year-old a standing ovation. Howie Mandel said, "Our hearts and our souls go out to you, Evie. I cannot believe the strength that I'm seeing in such a beautiful young girl, and this is a very dark time in your life, and we all go through dark times. And what gets us through is hoping and praying for that light at the end of the tunnel. And your voice and your song and your presence here are that light at the end of the tunnel." Simon Cowell added, "I'm not going to judge you. I'm going to tell you how I respect you, how much strength you have. That was a perfect tribute to your dad. Your voice was beautiful, the song was beautiful, very proud of you Evie for what you've done." And Mel B, who recently lost her father, added, "I know your dad's up there, looking down on you, and he must be so, so proud. Because what you just did was beautiful. It was so pure and so raw."
Accompanied by a simple piano arrangement, Evie held her composure through the emotional rendition of the Armstrong cover as a light waterfall cascaded down behind her. In an Entertainment Tonight interview, Evie said, "I just prayed before that I would be able to do that. I feel like I really had strength from God, and I know my dad was there." About her song choice, she said, ""That was my dad's favorite song. He would always sing that." Silence permeated the theater as her emotional rendition brought many in the audience to tears.
In the Entertainment Tonight interview, Evie, a member of The Church of Jesus Christ of Latter-day Saints, offered words of encouragement to those who may be experiencing similar trials to continue to have faith. She said. "Know that God is on our side. He doesn't abandon us. These hard things don't happen because he doesn't love us. He does this because he loves us. He wants to make us stronger. He wants to prepare us for even harder things down the road, even though it seems like this is the hardest thing that could possibly happen."
Evie's mother, Hillary Abplanalp, expressed gratitude on her blog for those who have supported her daughter through this experience. She wrote, "Thank you for lighting up social media last night with Evie Clair. I was reminded by a friend that Clair means light and in some languages it means famous. Both seem appropriate for sweet Evie Clair. She has been a light to me through the darkest days of my life." She continued, "My gratitude tonight is to my Heavenly Father and His Son who is the true Light of the World. Evie Clair is only reflecting that source. A mother couldn't ask for more from her children."
Evie Clair ultimately finished ninth in the competition. However, in the eyes of many people who have followed her journey, she is now and always will be a winner.
I will forever miss my sweet Daddy and cherish the last few moments I had with him, holding his hand, before the end. Love you lots!❤️

— Evie Clair (@evieclair) September 8, 2017