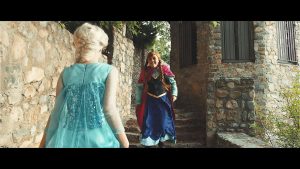 Who doesn't love a good Disney movie? Throughout the years, Disney has been providing quality entertainment that has captured the hearts of people of all ages worldwide. Once a person enters the fascinating world of Disney, they are taken on some wonderful adventures which may take them back in time or even to a faraway magical place. In the wonderful world of Disney, doors of imagination are opened wide and a person's dreams become reality.
On 15 November 2017, 12-year-old Kenya Clark, a member of the famed One Voice Children's Choir, released an amazing music video for an original song written by Shaun Barrowes. The song is called "Edge of Loneliness" and features several Disney characters – Elsa, Anna, Aladdin's Jasmine, Rapunzel from Tangled, Peter Pan and Wendy – that will be familiar to anyone who watches the video. As Kenya, who is dressed as a fairytale princess, beautifully sings "Edge of Loneliness," the characters come to life in scenes depicting the movies that they are a part of, taking the viewer on a whimsical journey.
Speaking of the song, Kenya said, "This song conveys what it feels like to wait to see someone again. There's always excitement and anticipation, and a requirement for patience, as we wait to see someone we love again. We all have experienced that moment when we anxiously waited for someone to come home and return to us. "Edge of Loneliness" depicts this emotional situation with a melodic ballad that mixes a fairytale enchantment with mainstream pop sensibilities."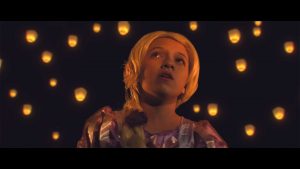 Most of the Disney characters depicted in the enchanting video have a connection with flying and some of them long for the company of others. They are really no different than you or I as we all have experienced loneliness, and at times have longed to fly away to someone we love who is far away. In each of our lives, we have at some time experienced living on the "Edge of Loneliness."
Kenya is grateful to Sony/Orchard for helping her spread her first original song and music video. She launched her YouTube channel in 2016 with the purpose of uplifting, inspiring, and entertaining those who have begun to follow her. Besides being talented, Kenya is determined and a hard worker. She has paid for all her music videos by doing babysitting jobs and by selling Pizza fundraising cards on the weekends.