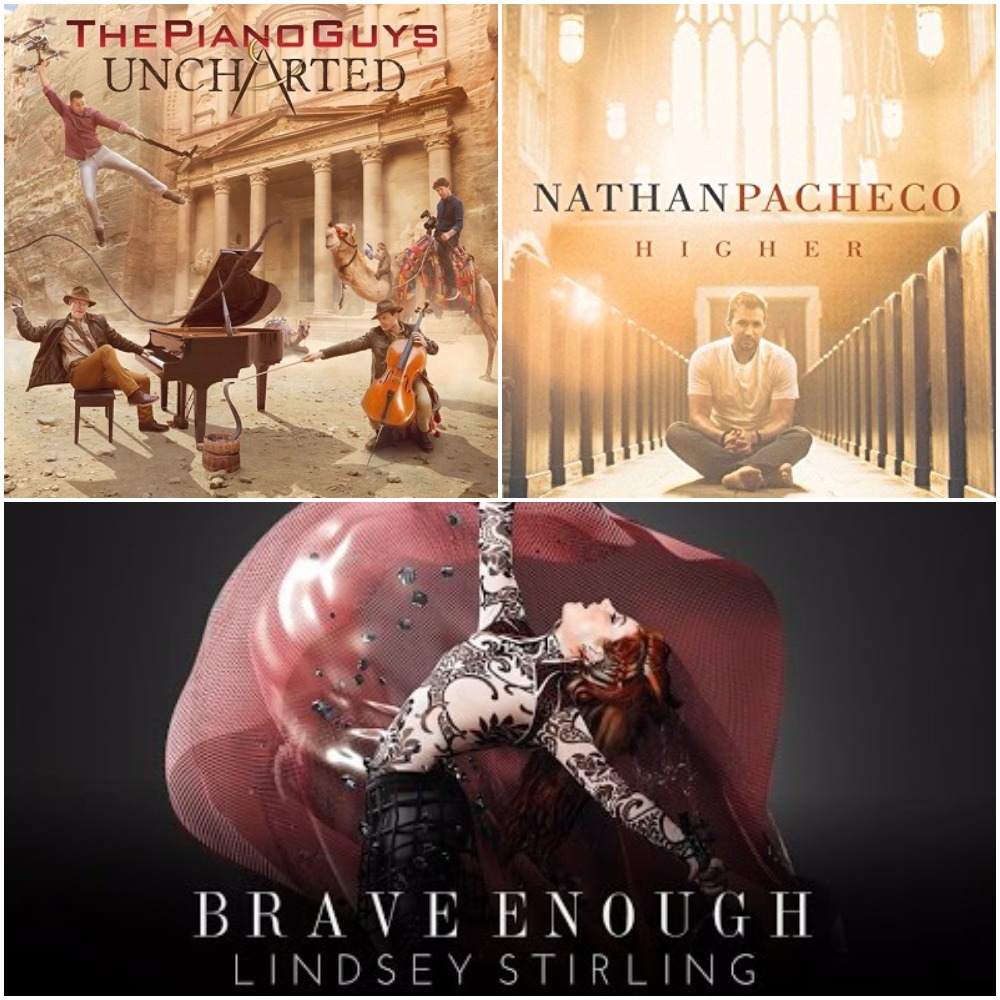 Recently three world-class LDS performers claimed the top three spots on the "Classical Albums" Billboard chart. Nathan Pacheco's new release Higher took the lead by landing in the no. 1 spot. Lindsey Stirling's album Brave Enough followed at no. 2, and the Piano Guys' album Uncharted came in at no. 3.
Pacheco's newly released album Higher – "a collection of his favorite songs designed to help listeners reach higher, to feel a deeper spiritual connection, and to find peace" – per LDS Living, "is already inspiring and resonating with listeners." In addition to the "Classical Albums" Billboard chart, the album also reached the no. 1 spot on the "Classical Crossover Albums," and the "Heatseekers Mountain" Billboard charts. It also received top rankings on eight other charts, including "Heatseekers Albums" (no. 3), "Top Christian Albums" (no. 16), and "Christian Album Sales" (no. 9).
Released on 19 August 2016, Lindsey Stirling's album Brave Enough has sustained high rankings on several Billboard charts for the past six months. Her album was ranked no. 5 on the "U.S. Billboard 200," no. 1 on the "U.S. Top Classical Albums," no. 1 on the "U.S. Dance/Electronic Albums," no. 2 on the "U.S. Digital Albums," no. 2 on the "U.S. Independent Albums," and no. 1 on the "U.S. Top Internet Albums." Although the music industry can be somewhat of a challenge as far as maintaining her standards and morals, Lindsey says that she has managed to remain strong in the gospel and to be a positive influence. She told LDS Living, "I try to keep the commandments. I strive to go to church even when I am on the road or on tour. I'm not perfect, but I really try. I live worthy of a temple recommend, and I strive to keep the gospel as a foundation for my life."
The Piano Guys released their album Uncharted on 28 October 2016. The album includes the rousing song "Okay" which they most recently performed at the inaugural celebration in Washington, D.C. They are no strangers to the entertainment business having performed sold-out concerts to worldwide audiences, topping the Billboard charts multiple times, and garnering an impressive social media following. Since 2011, they have made over 50 music videos.
During a Face to Face event in 2015, Jon Schmidt explained how the group can remain steadfast and immovable in the music industry. He told the audience, "We let them [the record company] know that the only way we would sign the record contract and enter into a relationship with them was if they would respect that we wanted to have control and we didn't want to do things that went against our standards or beliefs." He also encouraged the youth to set their standards early in life and to always live by those standards. Steven Sharp Nelson further commented, "As you shine and as you really commit to those standards, people love it and respect it."