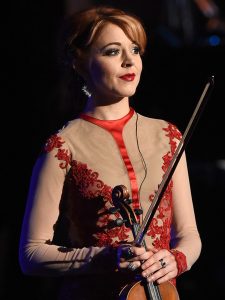 As the reality television show Dancing with the Stars gears up for the start of its 25th season on 18 September 2017, fans will be delighted to know that Mormon YouTube sensation, Lindsey Stirling, will be one of the contestants. Lindsey will be teamed up with professional dancer and fan favorite Mark Ballas. Other contestants on the show this season are TV personalities Nick and Vanessa Lachey, singer-songwriter Debbie Gibson, and former NFL star Terrell Owens.
Lindsey is by no means a stranger to performing on live TV. Fans will recall that in 2010, the dancing electronic violinist performed on  America's Got Talent, and in 2016, she performed on stage with Celine Dione at the Billboard Music Awards. And for anyone who happened to miss those performances, Lindsey, who is one of the highest paid content writers on YouTube, has a YouTube channel that features many of her extraordinary videos. To date, she has over 9 million subscribers to her channel.
Lindsey is also a well-reviewed author of her memoir The Only Pirate at the Party. She has been very open about her struggles with anorexia and depression, as well as, the pain that she felt when her father passed away after losing his battle with cancer in January of this year.
Speaking to People about his new dance partner, Ballas said, "She is lovely, she's gifted, and she is natural. . .. I've wanted her to be on the show for a while." Lindsey follows in the footsteps of other Mormons who have competed on Dancing with the Stars including Donny Osmond who won the competition in 2009 with his partner Kym Johnson.
Updates:
Dancing the cha-cha on the season premiere of ABC's Dancing with the Stars, Deseret News reports that Lindsey Stirling and her dance partner, Mark Ballas, tied for the top score, tying with Jordan Fisher and Lindsay Arnold for 22 out of 30 points from the judges.
Judge Len Goodman commented, "I was expecting you to be great at the lyrical dances, the foxtrot, the waltz. You come out there with that cha-cha-cha, it was crisp, it was clean … that, for me — the dance of the night."
Stirling and Ballas performed to "Don't Worry" by Madcon, featuring Ray Dalton. The number was comprised of quick footwork, classic cha-cha, and synchronized dancing. The couple lost points due to Lindsey's posture. Judge Carrie Ann Inaba, giving the couple seven out of ten stars, commented, "You did great, but watch your shoulders. They come forward just a little bit." In footage prior to the performance, Lindsey admitted to sometimes struggling using her upper body since she's usually holding a violin on stage. About her dancing abilities, her partner said, ""Lindsey's had a lot of courage, a lot of heart. And that to me is half the battle."