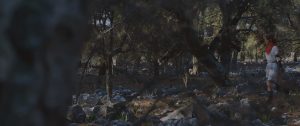 In her new enchanted video, Lindsey Stirling performs an original song called "Forgotten City" as she assumes the role of the main character in the new single-player puzzle adventure game RiME ™ published by Grey Box and Six Foot, which became available for purchase on 26 May 2017.
The game RiME ™ is about a young boy (Enu) shipwrecked on a mysterious island after a torrential storm. Alone in the "Forgotten City," he embarks on a meaningful journey filled with adventure and discovery.
In her video, as she dances and performs, Lindsey discovers some interesting things about the long-forgotten civilization. Like the young boy, she must use her cleverness to decipher the challenges of the rugged terrain, learn how to handle encounters with wild creatures, and unearth the secrets hidden among the crumbling ruins.
RiME ™ is an adventure and puzzle video game developed by Tequila Works for PlayStation 4, Xbox One, Microsoft Windows, and Nintendo Switch. The game is available now on the first three platforms and is scheduled for release for the Nintendo Switch in the Summer of 2017. Per Wikipedia, "Early concept work was undertaken under the working title Echoes of Siren — the game was initially green-lit by Microsoft, but was later rejected. Funding of the game was later obtained from Sony, for a release on PlayStation 4, with the first trailer released at Gamescom 2013. In 2016, Tequila Works re-acquired the rights to the intellectual property."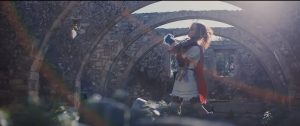 An important thing that Enu, as does Lindsey in her video, discovers is that the fox is a personal guide. If Enu lingers too long in any area, the fox appears and beckons him towards her or for him to investigate the immediate vicinity to advance on the path that he must follow. Per The Verge, "RiME ™ is part of an increasing number of games that use the environment, rather than words or complex user-interfaces, to communicate the story and the mission; from the moment you set foot on the island, it's the world around you that reveals where to go and what to do." In the video, we see that Lindsey must rely heavily on her instincts to know where to go and what to do next.
In all, "Forgotten City" is a portion of the game RiME ™ with a musical twist which adds to the thrill of the adventure.