It is no mystery that the Oakeson sisters, 11-year-old Lydia and 15-year-old Isabel are musically gifted. Their new YouTube music videos are nothing short of amazing. Both siblings are members of the renowned One Voice Children's Choir under the direction of Masa Fukuda, and both have studied dance and musical theater at Utah Conservatory of the Performing Arts (COPA). They are also members of The Church of Jesus Christ of Latter-day Saints.
Working behind the scenes to create the wonderful videos that everyone gets to watch on YouTube are mom, Amy Oakeson, who handles the production and directing of the videos, and dad, Gary Oakeson, who is responsible for arranging and producing the music, cinematography and editing. So, one might say, that the creation of music videos is a family affair.
Isabel started her YouTube channel on 16 April 2018. Two days later, on 18 April, she released her debut music video, an up-tempo cover of "The Middle" by Zedd; Maren Morris & Grey. Using various locations in New York City, New York (Brooklyn Bridge, Chinatown, and the Lower East Side) as a backdrop, Isabel delivers a spirited performance of the popular song which was officially released on 23 January 2018 and has already reached the top ten in the charts in the United States, the United Kingdom, and several other countries. She adds her personal flair to her cover of the song, making the rendition her own.
Isabel Oakeson has been a member of the One Voice Children's Choir for the past six years. During that time, she has had many wonderful opportunities to perform, including singing for President Barack Obama at the White House, and sharing the spotlight with such great artists like Alex Boyé, David Archuleta, Kevin Olusola of Pentatonix, Kurt Bestor, Jenny Oaks Baker, Vocal Point, and Barry Manilow. She also appeared with the One Voice Children's Choir on NBC's America's Got Talent and has appeared with numerous production companies throughout the Salt Lake Valley including The Grand Theatre, Scera, Kingsbury Hall, the University of Utah's Department of Theatre, Youth Theatre at the U, and Utah COPA. An impressive resumé for a 15-year-old.
Lydia Oakeson is not a stranger to the camera or the stage. At just 11 years old, she has performed as a soloist with the One Voice Children's Choir in appearances with Alex Boyé, Kevin Olusola of Pentatonix, Jenny Oaks Baker, David Osmond, and for former President Barack Obama and First Lady Michelle Obama at the White House. She started her YouTube channel in January 2017 and as of late April 2018, her videos have garnered more than 178,000 views on YouTube alone, with more than 2.5K subscribers.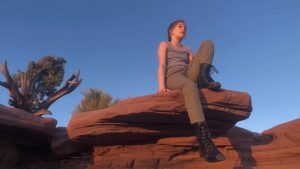 Lydia's newest music video, an invigorating rendition of "Whatever It Takes" by Imagine Dragons was released on Thursday, 26 April 2018. The video was filmed and edited on an iPhone X on-location in Utah at Arches National Park, Dead Horse Point State Park, Little Wild Horse Canyon, and Goblin Valley State Park. In the video, Lydia pays homage to the new reboot of Tomb Raider and Indiana Jones. She also pays homage to Oscar-winning actress Alicia Vikander's portrayal of the fiercely independent Lara Croft in the new reboot of Tomb Raider. Dressed for action, she does "Whatever It Takes" to get to the top of a mountain. With boundless determination and energy from the adrenaline running in her veins, she does not quit nor give in until she has achieved her goal.
Lydia Oakeson has also performed with the One Voice Children's Choir on NBC's America's Got Talent; toured with the choir to France this past summer; and is a soloist in the choir's YouTube videos of "Where Are You Christmas" and "J'Imagine." Some of her favorite theatrical roles include Susan in Miracle on 24th Street, Young Fiona in Shrek!, and Pepper in Annie. She studies voice with Shalee Schmidt and she is a competitive individual figure skater (ISI Freestyle 4) which she demonstrates for us in her music video "Skating Away."
Isabel and Lydia have been blessed with immense talents and both are destined to reach the stars in their music careers. Neither are "Stuck in the Middle" and both are determined to do "Whatever It Takes" to make their dreams become a reality.