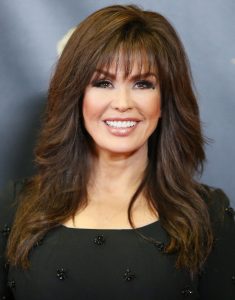 Olive Marie Osmond (Marie), like her musically inclined brothers – Alan, Wayne, Merrill, Jay, Donny, and Jimmy – has had five decades of experience in the entertainment business. Her two oldest brothers, Virl and Tom, were both born deaf but have joined their talented siblings on stage and in television specials from time-to-time throughout the years.
Marie is a singer, film screenwriter, actress, doll designer, entrepreneur, accomplished author, and humanitarian. She made her national television debut on the Andy Williams Show at the age of 3. In the 1970s and 1980s, she gained much success as a solo Country music artist. At the age of 12, she recorded her cover of the country pop ballad "Paper Roses" and made history as the youngest female artist to have her debut record go to #1 on the charts along with a Grammy nomination. She has 27 albums and numerous gold records to her credit, and adds to her list of accolades, the honor of winning Country Music Association's Vocal Duo of the Year award for "Meet Me in Montana." Her latest CD titled Music is Medicine was released on 15 April 2016.
Although the world-renowned Osmond family is known for making music, one small fact that people may not be aware of is that Marie's brothers began their musical journey on a quest to raise money to purchase hearing aids for their hearing-impaired brothers, Virl and Tom. In a recent Deseret News article written by Marie, she states, "The power of music helped to heal our heroic brothers, and that is exactly the lesson my mother instilled in all of us. She taught her children that music could awaken and bond people in a way that nothing else can. Medications, surgeries and bandages can help to heal our bodies, while music can heal our souls."
In 1983, Marie set out on a mission of her own to help bring healing to the body and soul. She founded the Children's Miracle Network Hospitals with John Schneider, Mick Shannon, and Joseph G. Lake. The organization raises funds and awareness for 170 member hospitals that provide 32 million treatments each year to kids across the U.S. and Canada. Since 1983, Children's Miracle Network Hospitals has raised more than 5 billion dollars with all donations remaining in the communities where they are raised to fund critical treatments and healthcare services, pediatric medical equipment and charitable care for member hospitals.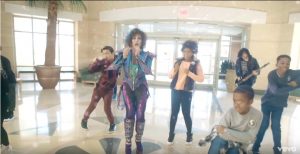 Marie further comments, "Music has an overwhelming ability to restore and rejuvenate." Her single, "Music is Medicine," features the lyrics, "Fill your veins with the sound of a song that can heal your soul." She says that whenever she visits any of the CMN hospitals, she always walks away feeling rejuvenated and uplifted by the miracle children. "Every time I interact with children, I'm reminded of their incredible resiliency," says Marie. "When I engage with patients at one of our network hospitals, it's clear to me just how courageous children are."
Children's Miracle Network Hospitals will be hosting #ChildrensHospitalsWeek for the first time starting on Monday, 20 March 2017, through Monday, 27 March 2017. The week-long celebration is an opportunity for miracle children to come together with their families. The incredible work that is being done at CMN hospitals across North America will be highlighted. Also, stories of hope and healing of patients will be shared. On Friday, 24 March 2017, Nick Cannon will host a Facebook Live-athon from 10:00 a.m. until noon EDT.
Marie concludes, "If my mother were alive today, she would be in awe of the growing number of children who are healed at Children's Miracle Network Hospitals each day. I may not be a doctor, but I can offer my own medicinal healing through music.