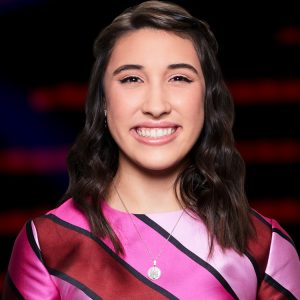 Hanna Eyre from Laguna Niguel, California, is a 15-year-old piano teacher who has a dozen piano students. She is a member of The Church of Jesus Christ of Latter-day Saints, and she is also a contestant on season 12 of NBC's The Voice. She is the third LDS teenager to audition this season, with 14-year-old Aaliyah Rose from Provo, Utah (heading to the battle rounds with Team Gwen), and 16-year-old Lauryn Judd from Draper, Utah (heading to the battle rounds with Team Alicia).
Her father is the one who signed her up for the audition, and during the taped interviews at her home, she wore her Young Womanhood Recognition Award of The Church of Jesus Christ of Latter-day Saints. During her blind audition, she performed a near perfect rendition of Taylor Swift's "Blank Space" resulting in three judges turning their chairs. Coach Adam Levine was the first to turn his chair. He was followed by Gwen Stefani and Blake Shelton.
Coach Adam compared her to Danielle Bradbery who won "The Voice" during season four with Blake Shelton as her coach. He further remarked, "The second I turned around, you started smiling and [you] kind of maybe a little bit forgot about the fact that you're still singing. Then you really got it back together. By the end, I thought you were doing the best stuff you were doing the entire performance. You are miraculously talented. I am utterly blown away by what you do. Let's do this."
Reflecting on her own career starting out as a teenager, Stefani commented, "I clearly know what you want to do and I can share everything I've done with you. We can have so much fun together." Shelton said that she has a unique voice. He said, "When you started singing, it almost sounded like a lullaby, but still all this range and all this power."
With three judges bidding for her to choose one of them as her coach, she ultimately decided to go with Team Adam. He said, "For someone who is 15 years old to be that good, she's gifted. It's time to hone her craft." She is now headed to the battle rounds.
Hanna Wins the Battle Round
During the Monday, March 27, episode of NBC's "The Voice," Hannah competed against Sheena Brook, 33, of Fort Myers Beach, Florida, as they performed a dueling duet of "Try" by P!nk. She was announced the winner during the battle round. Coach Adam Levine said, "It never gets easy to make these decisions especially when it's so spectacular." Hannah posted on her Instagram page, "I'm so so so thankful to be staying on #TeamAdam and moving on to the KNOCKOUTS!!! 😱 So happy to stay in the NBC The Voice Family! 😊 I also feel so incredibly blessed to have worked with @sheenabrook!!! This amazingly talented girl was always so sweet and kind to everyone on the show and I love her sooo much!!!"
Although this was Hanna's first battle round on the show, it wasn't the first time she had ever "battled" to win a singing competition. At the age of five, her mother asked her if she wanted to learn how to play the piano. As she was learning to play the piano, she was also learning to sing at a young age. She told LDS Living, "My very first performance was in kindergarten when I performed 'Castle on a Cloud' from Les Misérables. After that, I was hooked." From performing at Church services and talent shows, Hanna was able to hone her musical skills as a vocal artist. She says that her favorite memory of singing before the show was her performance of U2's "Pride" at a fundraiser gala for her school, the Orange County School of the Arts. She continues, "I love that song and to sing it with my friends from school to raise money for my school was such an honor."
However, her first "big" performance before the show was at a Battle of the Bands summer camp at the Los Rios Rock School in 2014, where she performed an original song called "Believe." In the description of the song, she wrote, "This is a song I wrote called 'Believe.' I hope it reminds everyone out there to BELIEVE in yourself whenever times get rough." Even with her experience in performing before an audience, she admits that she still gets a bit nervous. She commented, "There are butterflies in my stomach and my hands are a little shaky, but I am so excited to get out there and just do my best. I think it helps me to remember I have to do my best and not get lazy in my preparations before I perform." She attributes the additional peace that she feels when performing to her faith.
15-Year-Old Hanna Eyre Headed to Live Playoffs
During the Monday, 3 April 2017 episode of NBC's The Voice, 15-year-old Hanna Eyre won her knockout round and is now headed to the live playoffs representing Team Adam. Hanna performed Leona Lewis' "Bleeding Love," competing against Autumn Turner, who sang the popular Aretha Franklin song, "Respect." Turner was originally on Alicia Keys' team but was stolen by Adam Levine to be a part of his team during the battle rounds.
Before the competition, Hanna expressed some concerns about competing against an Aretha Franklin song. She commented, "One of the things that make me the most nervous about singing against Autumn is what a powerful presence she has when performing. She's amazing. I really need to bring my best." Coach Adam who sees a lot of potential in Hanna said, "If she keeps improving and she keeps getting better, the sky's the limit." After Hanna's dynamic performance, Coach Blake Shelton compared her to a "transformer" because of the big voice that she has for a person her age. Her coach, Adam Levine, further stated, "I had to go with Hanna just because she's so young and has so much potential. Watch out. That girl is just going to continue to get better in front of our eyes."
Hanna Eye is Eliminated from NBC's The Voice During Live Playoffs
During the live playoffs on NBC's The Voice on Tuesday, 18 April 2017, LDS teen Hanna Eyre was eliminated.  She performed Demi Lovato's "Skyscraper" to compete for a spot in the top 12.
Before her performance, her coach, Adam Levine, commented, "Hanna has always been strong, but you see her gaining a little more control and a little more subtlety and kind of growing up a little bit as a singer, which is good timing." Hanna also noticed a lot of improvement in her abilities during her time on The Voice and commented, "Every single step of this show has made me better as an artist and as a person and I just want to keep seeing myself grow." After her performance, Levine called her, "the sweetest human being that has ever lived."
Hanna posted the following message on her Instagram account, "Thank you so much for everyone on #TeamHanna ❤️ Your support made all the difference in my journey!!! This was one of the most amazing experiences one could ever ask for and I'll never forget it! I'm so thankful that I was blessed to be on #TeamAdam and be a part of this blessing that is the #Voicefamily! A big big thank you to Adam for believing in me so much throughout this journey! I've seen myself grow immensely and I love you so much!!
15-year-old Hanna Eyre is from Laguna Niguel, California and attends the Orange County School of the Arts.
.