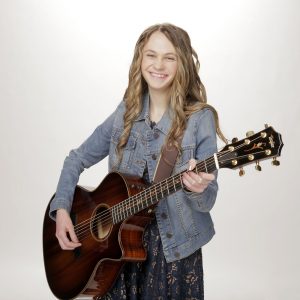 Ever since 2015, when now 15-year-old Kenadi Dodds, a Latter-day Saint country singer from Logan, Utah, saw Shania Twain from the front row at Vivint Arena in Salt Lake City, Utah, she has envisioned becoming a country star. She has had a few opportunities to help make her dream a reality.
Five months ago, in early March 2020, she auditioned for NBC's reality television show, America's Got Talent. She had also previously tried out for NBC's The Voice at least three times. This season marked her third attempt at getting on the America's Got Talent stage. She wowed the judges with an original song, "One Way Ticket to Tennessee," which she co-wrote with her dad, Chris Dodds, a year and a half ago. The audition aired to eight million people on 30 June 2020.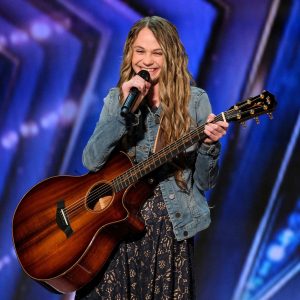 During the critique of her audition, Simon Cowell told her, "Well you're a little firecracker, aren't you?" Your voice sounds as if you were from Nashville when you sing. I love artists, particularly people your age, who know what kind of lane they want to go down. . . .You know where you want to go, and I think we can help you get there."
Not long after her audition, the lights were turned off and the stage grew deathly silent as America's Got Talent, following the suit of schools, restaurants, houses of worship, and businesses, shut down due to the coronavirus pandemic. The audition round had to be completed virtually.
Nevertheless, the rising country star did not allow the temporary setback to deter her from honing her musical talents and continuing to share her music videos on her YouTube channel, which currently has more than 6,000 subscribers. Her latest music video is a cover of "Should've Said No" by Taylor Swift, which was released on 28 July 2020.
America's Got Talent resumed filming in June, and with several safety precautions in place, four weeks of live shows kicked off on 1 August 2020. Now Kenadi is preparing to go on America's Got Talent again. She will next appear on the show on Tuesday, 1 September 2020, for the last round of the quarterfinals.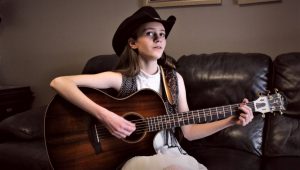 Kenadi recently posted on Facebook that she is on "AGT" ground and has been rehearsing for her next performance. On Monday, 24 August 2020, she posted, "First day of America's Got Talent rehearsals. I can't believe I'm here!" Hopefully, you all are getting ready to vote! I'm so excited for you guys to hear my song!"
Kenadi previously told the Deseret News that she has wanted to perform for Simon Cowell since she was four. The Deseret News reports that at the age of four, Kenadi dubbed her "My Little Pony" stuffed animal the head honcho of all her other stuffed animals. She and her other toys "would regularly 'perform' for the authoritative pony who, in the young girl's eyes, resembled competition judge Simon Cowell." She told her dad that she had selected the pony to embody Cowell "Cause the way the stitched the mouth on. They stitched it into a frowny face."
Reflecting on her audition, which was performed without a live audience (just the four judges and her family backstage were present) due to the coronavirus pandemic, Kenadi said, "I don't think I was scared. I think it was new, and I did not quite know what to expect. … But I was mostly just excited. Doing those things, you just really got to shut out any nerves and just remember what you've practiced getting there, what got you there. . . .It was really weird just to see it so echoey and quiet, you know? But I just stood there on that X and did my thing."
While waiting to return to the America's Got Talent stage, Kenadi, a rising sophomore at Logan's Green Canyon High School, kept busy. She finished her freshman year with straight A's. She also learned the art of audio engineering, with hopes of producing her own album someday. And she wrote three songs: A song she surprised her dad with on Father's Day; a song called "Dancing Through the Stars" that she wrote for her nine-year-old sister, Alexis, and "My Dopamine," a drug awareness project she completed for her health class.
If Kenadi wins the competition, she has plans of using some of her winnings toward designing her own guitar. She said, "I see my shows in the future hopefully looking kind of a mix between Shania Twain, Carrie Underwood and Taylor Swift, that kind of thing. I just want people to be able to escape and have their money's worth. I want to have fun and put on a show."
Above all else, Kenadi wants to make people smile.
Kenadi Dodds' Journey on America's Got Talent Continues
On Tuesday evening, 1 September 2020, Kenadi performed "Dancing Through the Stars" — a song she wrote for her nine-year-old sister — during the quarterfinal round.
After her performance, judge Heidi Klum had nothing but praise for the song and what it represented.  She said, "I think you're great. I think you've done a fantastic job and no matter what happens tonight or tomorrow in the results show, I do believe that the Music Row — which I know you want — I know they're going to call for you. I have it in my gut, I think you're absolutely amazing. I also love the bond that you have with your sister."
Judge Howie Mandel, however, was not as sold on the performance. He told Kenadi, "I love you and I think that you're an amazing talent. I have to be honest that that song didn't do it for me personally. If you remove the story, if you remove what it was about … " Before he could finish Klum interjected and criticized him for not being more encouraging of original music.
Judge Sofia Vergara agreed that "Dancing Through the Stars" wasn't as strong as "One Way Ticket to Tennesssee," the original song that Kenadi sang for her audition. She did say that the song was "beautiful" and thought that Mandel was being "very negative." She told Kenadi, "I think people are going to love you, and I hope that people vote for you tonight because you deserve it."
After the judges' reactions, host Terry Crews asked Kenadi what it would mean to win "AGT." She replied, "It would mean the world to me. We've worked so hard and sacrificed so much, and I'm just so grateful to be this far and to have come this far. If I get voted through, it would just mean the world to all of us."
On Wednesday night's episode of America's Got Talent, after the viewers votes were in, the rising 15-year-old country star from Logan, Utah, was the first act to be pushed through to the semifinals. Through her tears, Kenadi said, "I can't believe this! Thank you so much for your votes. It means so much to me."
After the episode aired, Kenadi posted a video on Facebook to thank her family, friends, and fans for their support. In the video, she said, "When I was on that stage, I was just so grateful to be that far. I am very emotional right now, like I just keep crying out of nowhere. … I promise I'll work hard, and I want to make you guys proud next round, so I'm going to get right to work and just make it up to you guys for giving me this beautiful opportunity."
The semifinals air 8 and 15 September 2020. The winner of America's Got  Talent will be revealed on Wednesday, 23 September 2020.
You may also enjoy reading: It's been a crazy, chaotic, busy and exciting time for the Dodds family by Rod Boam, and Kenadi Dodds Dazzles With Carrie Underwood Cover On America's Got Talent Final by Sarah Curran for ET Canada.