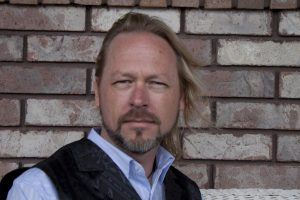 Paul "Cactus Jack" La Marr is a singer, songwriter, composer, playwright, writer, producer, and Director of Life According to Cactus Productions in Salt Lake City, Utah. He is best known for his heart wrenching, soul moving ballads. Paul is a member of The Church of Jesus Christ of Latter-day Saints and is married to Julia Blue La Marr. He was born in Utah but moved to Australia in 1988 where many people believe that he became entirely Australian. In 2010, he sold all of his possessions and returned to Utah to pursue his dream of writing and producing music.
Paul is also an actor and is known for MLM: A Meat Lovers Marketplace (2014), Thorns (2015) and Hidden in the Heartland (2016). In 2012, he created a Christmas musical that captured the hearts of people in Utah. The title of the musical is "A Time of Forgiving" and is about a man who has left his family. The story takes place on Christmas Eve – his wedding anniversary and his daughter's birthday. Through a series of events, each member of the household learns valuable life lessons, and despite all their challenges, the musical is both uplifting and warm. The wife discovers that her life is not as perfect as she thinks it is. The daughter learns about forgiveness no matter the outcome. And the husband learns that he needs to take responsibility for his problems.
The goal of the musical is to teach everyone that the Atonement of Jesus Christ is all inclusive – no one is ever excluded. No matter what a person has done in their life, he or she can find forgiveness in and be redeemed through the Atonement. For this to take place, like the husband in the story, we must learn to take full responsibility for our actions – experience a mighty change of heart – and invite the Savior into our lives to help and guide us.
In a 8 December 2016 LDSmag.com article, Jonathan Decker describes the performance of Paul "Cactus Jack" La Marr at a live event that he recently attended by saying, "I was stunned (and very moved) by his soulful, passionate takes on Latter-day hymns. I approached him and found him genuine, humble, and faithful." He continues, "Cactus' latest album, A Carpenter's Hymns Volume II, is one that I heartily recommend for all Christian homes. He breathes new life into Christ-centered favorites (his take on "If You Could Hie to Kolob," for example, is a powerhouse delight)."