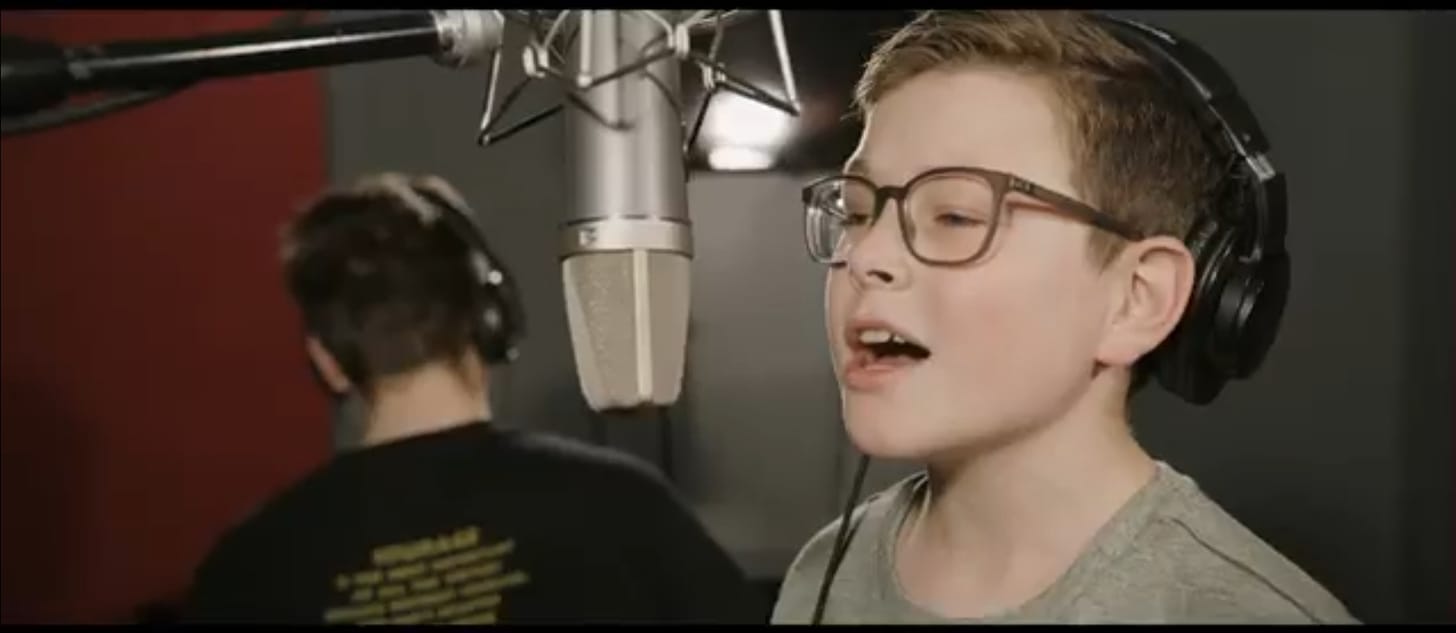 Carson Ferris is a ten-year-old rising music artist who gets a lot of opportunities to sing and has his own YouTube channel. He also likes to go on bike rides, read, and do fun things with his family. He is a member of the One Voice Children's Choir and Voices Elevated. Even though Carson likes to perform, he struggles with performance anxiety. 
Carson says that he has always loved music and singing. At the age of six, he started taking guitar lessons, and credits his teacher, Dave Wilbur, for helping him get out of his comfort zone. He started taking singing lessons at the age of eight and auditioned for the renowned One Voice Children's Choir. He was also fortunate to meet Debra Bonner and began taking singing lessons with her as well. She, in turn, introduced him to her son Oba Bonner (O/B/A) and Nate Jolley, and for the past six months he has been making music with them.  
In a recent interview with About Insider, Carson said, "Music has always been a very important part of my life. When I'm feeling down or sad or lonely it helps me through that. I want to share that with other people and help them hopefully feel that through my music." 
Carson says that he would not be where he is today in the music industry if it were not for people like Debra Bonner who helped him hone his talents through vocal lessons. He says, "She has helped me see that I am someone worth believing in." He also gives a shout out to O/B/A and Nate Jolley for producing his music and for helping him get out of his comfort zone. And he also thanks his family for their love and support every step of the way.  
On Friday, 23 October 2020, he released his debut single as a solo artist on his YouTube channel. The song is called "I Will Fight,"" which as he says, is about "pushing through things that are hard, so that we can do the things we love" He co-wrote the song with O/B/A and the music is by Nate Jolley.  
He told About Insider, "I wanted to sing a song about overcoming the challenges and anxieties that I go through every time I perform. Something I really struggle with is performance anxiety. Before every performance I feel like I'm going to mess up and no one will like it and that maybe I should just give up. Despite this I'm always glad I can go up on stage.  Once I'm up there I feel like I can be myself and all my problems seem to fade away."  
When asked, "What's your message to other kids your age who also struggle with performance anxiety?" Carson replied, "I want them to know that they're not alone and that there are lots of people who deal with it. There is probably somebody that they know that also goes through the same thing. I'd also like to say: don't let it keep you from doing the things that you love because it doesn't have to. I feel like when I push through my stage fright, I'm really me when I'm singing. I feel like I'm the best possible version of myself that I can be." 
Carson also mentioned that when he is preparing his content for social media his objective is to show people who he is as a person, as well as an artist. He said, "I want to come up with things that people already know and like but put my own spin on it." 
As for the one person who has influenced his growth the most, he gives that credit to his mom. He says, "She practices with me even when I'm stressed or being difficult. She always gives me good feedback and helps me with my difficulties. She always encourages me and helps me and supports me with everything that I do." 
So, what is next for 10-year-old Carson Ferris? In November, he plans to release his second single, which he helped write. The song is called "Number 1." Also, on the first Thursday of every month, he will be releasing a cover song. The cover song that he will release in December is the first Christmas song that he has ever done.