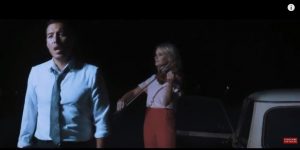 The song "Fly Me to the Moon" is an old-time classic that when listened to takes you back to the days of yesteryear when the times were perhaps much simpler. Step back in time to the year 1954 when the song, originally titled "In Other Words," was written by Bart Howard and first recorded by Kay Ballard. Imagine, if you will, a young couple, perhaps a honeymoon couple tuning in the radio and hearing the song and gliding across the floor as they gaze into each other's eyes. Sounds dreamy, doesn't it? That is the way the song makes you feel as you listen to it.
By 1964, Frank Sinatra (a.k.a. Old Blue Eyes) had recorded a version of the song that was closely associated with the Apollo missions to the Moon. The title of the song had then been changed to "Fly Me to the Moon."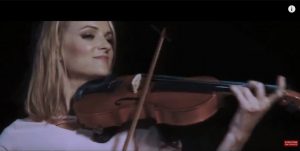 Fast forward to the present – July 2017. A dynamic musical trio hears the song and decides to record it, but with a little different spin – more in tune with the style of the music from the hit movie "La La Land." The group comprised of Becky Foster, Lynda Breese, and Chris Meek, collectively known as Dahlia Row, released their nostalgic version of the song on 29 July 2017.
A person might think that it is quite the feat to take a classic song and put a modern twist on it and still deliver the song sounding as smooth as the original, but Dahlia Row has done just that. The smooth, rich vocals of Chris Meek and Becky Foster blend harmoniously together to help create the perfect tone, mood, and elegance of the song, and the eloquent violin playing by Lynda Breese creates the perfect ambiance.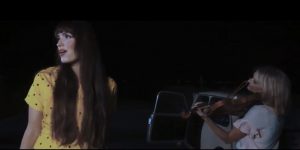 The song fits perfectly with the vision and goal that the group has for creating an album this year that is based on songs from their childhood. According to Utah Valley 360, Meek commented in an email, "Our 2017 album is focusing on songs that we grew up with, and this song is one that not only influenced us as our parents listened to it but through movies that it has been featured in as well." To help give the video the right feel, Meek also said in his email, "In the filming of the video, we carefully selected wardrobe, color palette and how to color grade the video also referencing the film ["La La Land"]."
The song "Fly Me to the Moon" is the fourth track on Dahlia Row's 2017 album. Their modern version is without a doubt, one that Old Blue Eyes himself would be left awestruck as he listened to it.