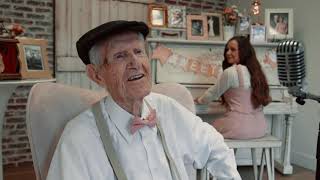 Emily Farmer, a member of The Church of Jesus Christ of Latter-day Saints (often referred to as the "Mormon Church"), has always had a deep love of music. She is a classical pianist, comparable to music artists like Paul Cardall, and has spent a great deal of time honing her skills of playing the piano.
Throughout her lifetime, Emily has suffered from multiple traumatic brain injuries, which impaired her ability to play the piano for a time. However, through her sincere love for music and service, she determined to relearn how to play the piano and regain her talent.
One day as she was out jogging in her neighborhood, she passed the local retirement home. She had a strong impression to go inside and meet some of the residents. She even offered to play the piano for them sometime. Thinking that it was a great idea, the staff asked her to play something right there on the spot. Emily felt that it was a perfect time and sat at the piano and played some songs. Little did she realize when she sat down to play the piano that day, it would soon lead to a beautiful friendship full of music and inspiration.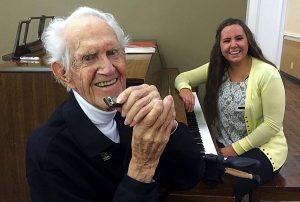 In the audience that day was 103-year-old McEwan "Mac" Voorhees, who was also a lover of music. He immediately felt a connection to this kindred spirit. After her performance, he and 28-year-old Emily became close friends, bonding over their love of music.
The two new friends soon decided to start writing music together. As they collaborated on their music, they came to realize that if they were to create an album together, Mac would become the oldest person ever recorded on a debut album. As they worked together on the album, their friendship grew stronger. Sadly, Mac died just three months shy of the release of the album.
At one of her lowest moments as she was feeling the deep loss of her close friend, she was reminded of the promise that she had made with Mac to spread sunshine and joy with their music. Deep within her soul, she felt that the world needed to hear their music. That was the motivation and the drive that she needed to complete the album for her best friend.
The heartfelt, faith-based Christian album, which is titled Journey, is available on Emily's website and is also available on iTunes, Apple Music, and Spotify. The album is filled with piano music carefully arranged and written by Emily, and some arrangements feature the singing and harmonica playing of her best friend, McEwan "Mac" Voorhees. Music videos are also available on Emily's YouTube channel.