This article and companion podcast is being shared with permission from Laura Hales of the LDS Perspectives Podcast website.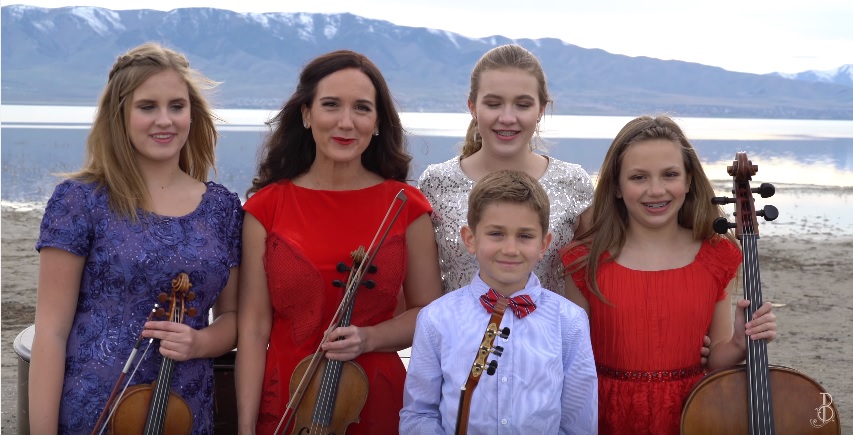 Tune in as Taunalyn Rutherford interviews Jenny Oaks Baker about being a mom, concert violinist, and performing with her children.
America's Violinist, Jenny Oaks Baker is a Grammy Nominated, Billboard No. 1 performer and recording artist. She received her Master of Music degree from the renowned Juilliard School in New York City and her bachelor's degree in violin performance from the Curtis Institute of Music in Philadelphia.
She has performed as a soloist at Carnegie Hall, Lincoln Center, Strathmore Hall, the Library of Congress, and as a guest soloist with The National Symphony, Jerusalem Symphony, Pittsburgh Symphony, San Diego Symphony, Utah Symphony, and the internationally acclaimed Mormon Tabernacle Choir. Over the years Jenny has collaborated with such luminaries as Gladys Knight, Kurt Bestor, Marvin Hamlisch, and the former Secretary of State Condoleezza Rice.
Jenny has released fifteen studio albums since 1998. They have sold over half a million copies and consistently chart on Billboard.  Jenny's emotionally stirring music has also been featured on the soundtracks of many films, and her popular music videos can be viewed on her Youtube Channel.   Jenny, her husband Matthew, and their four children reside in SLC, Utah. (Bio courtesy of official website.)
Please either click on the link below to go to the LDS Perspectives Podcast page or the player and listen to Jenny Oaks Baker's interview.