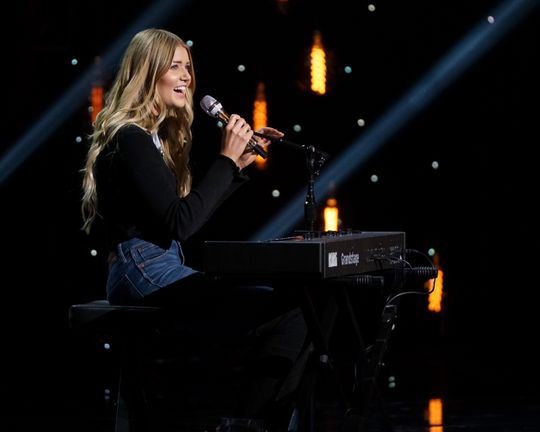 Johanna Jones, a singer-songwriter from Las Vegas, Nevada, was a contestant on the farewell season of American Idol. She made it all the way to Hollywood week before being eliminated after the group rounds.
Johanna was raised in a musical family where her mother was a professional vocal coach, and she has sung in many venues and groups of all types from churches to jazz choirs to singing the national anthem at the National Hunter Jumper Horse Show in November 2015. Her voice is best described as a blend between Katy Perry, Sara Bareilles, and Sam Smith. She works as an In-N-Out Burger cook, and she is also a member of The Church of Jesus Christ of Latter-day Saints (often mistakenly referred to as the "Mormon Church").
Johanna returned to the stage of American Idol this season and has wowed the judges – Katy Perry, Luke Bryan, and Lionel Richie – with her amazing talent, and her unusual pre-performance ritual of eating potato chips has resonated with Katy Perry. After her stunning rendition of Sam Smith's "I'm Not the Only One" on a recent episode, Katy Perry commented, "Johanna Jones, I'm scared for you. . . . The job you have worked so hard for, you will have to quit." Lionel Richie echoed the remark by saying, "Your control, your ability to sell it to us, I'm telling you it was mesmerizing. You've got the touch."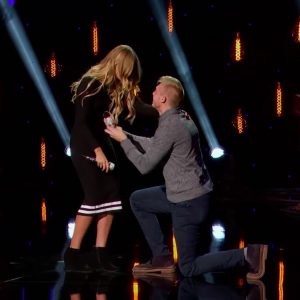 Fast forward to the solo auditions of American Idol's Hollywood week. Johanna received a standing ovation from Katy Perry for her performance of "Wicked Game" by Chris Isaak. After the performance, she was pleasantly surprised when her boyfriend, Matt Zavoral, appeared on stage, dropped to one knee, and said, "Johanna, you are the love of my life. Will you marry me?" The touching reunion brought the judges to tears. Johanna immediately said "Yes!"
Matt explained that he took six exams the day before and drove 11 hours that morning so he could see Johanna as soon as possible. Before he proposed to Johanna, she confessed on camera, "[Matt] is the most supportive, loving, awesome guy I've ever met. I don't want to get ahead of myself but I think he is probably the one, but we don't need to tell him that quite yet. I mean, I don't know if he knows, but I know." After his romantic proposal, Johanna knew without a doubt that Matt knew that she was the one too.