The National Youth Orchestra 2 (NYO2) was launched in the summer of 2016 by Carnegie Hall's Weill Music Institute as an intensive orchestral training program designed for talented young musicians ages 14–17. Musicians between the ages of 14-17, from underserved communities in the classical orchestra field, are selected across the U.S. to study with peers and learn from members of the Philadelphia Orchestra.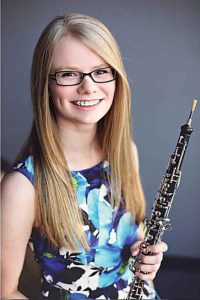 On 18 July 2017, Kari Jenks, a 16-year-old junior at Minot High School Magic City Campus, became the first musician from North Dakota to perform at Carnegie Hall in New York City as a member of the NYO2 program.
Kari, who is known for her unique vibrato technique (which she credits her mentor Kari Files for developing) and expressive musicianship, has been playing the oboe for the past seven years. She has performed in several ensembles, including the Minot Symphony Orchestra, North Dakota All-State Orchestra, and Magic City Jazz Band. NYO2 has described her as "an outstanding young American instrumentalist." The Minot Daily News reports, "Jenks is earning a reputation as a must-see performer who sways with melodies while playing with stellar proficiency."
Kari spoke with Minot Daily News about her experience of receiving the news that she had been selected. She said, "I had just walked out of mock AP band for AP English when I got a text from my mom. I was like no way, this can't be. I didn't expect to get in by any means. So, I was just super excited and couldn't believe it. I never thought I would be going to Philadelphia and New York this summer."
Kari is a member of The Church of Jesus Christ of Latter-day Saints and attributes her lifestyle as a Latter-day Saint for influencing the experiences that she has had as a musician and is grateful that the arts play a large role in the Church. She has managed to gain confidence and overcoming performance jitters by performing special musical numbers in church for large congregations. She told LDS Living, "I think my faith makes the way I perform differently from other individuals. . .. When I play I try to always have the Spirit with me and be expressive and tell a story with my music."
Her experiences as a musician have allowed her to interact with many people of different lifestyles and beliefs, helping her to strengthen her own faith and testimony. She further commented, "Outside of playing, my musical friends are surprised when I don't swear, drink, or smoke like others do."
Kari states that she is extremely grateful for the opportunity to perform with the National Youth Orchestra 2 and for the opportunity afforded by Carnegie Hall to play in an orchestra in New York for free. Meeting and connecting with people whose goals are like her own has been an amazing experience for her.
According to LDS Living, "NYO2's performances this year will feature Maestro Giancarlo Guerrero, Music Director of the Nashville Symphony and Principal Guest Conductor of The Cleveland Orchestra's Miami Residency, and GRAMMY Award-winning artist Esperanza Spalding. They will perform two ballet suites—Copland's Billy the Kid and Stravinsky's The Firebird—as well as five works from Esperanza Spalding's recent albums."