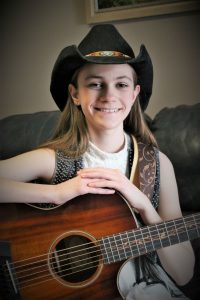 Kenadi Dodds, a 14-year-old eighth grader from North Logan, has high hopes of one day being a country western singer and being on the radio singing top ten singles.
She is doing everything that she possibly can to make her dream a reality but she and her family have had to overcome some unusual obstacles. One obstacle that she faces is that both of her parents are visually impaired and are unable to drive. To get to places that she needs to go, Kenadi has to rely on extended family members or public transportation.
Kenadi was told that she needed to work with a well-known voice coach in Salt Lake City, Utah, which is about three hours away from where she lives. In order for her to meet with the vocal coach, her parents have to find someone to take her, wait an hour while she works with the coach, and then take her back home. Her family graciously pay for the gas, but the trip is basically an all-day venture.
Her hard work and perseverance have obviously paid off. She has performed the national anthem for the Utah Jazz, the Salt Lake Bees and many Utah State University sporting events. She also sang at three shows in the Vivint SmartHome Arena and also makes appearances at some local restaurants.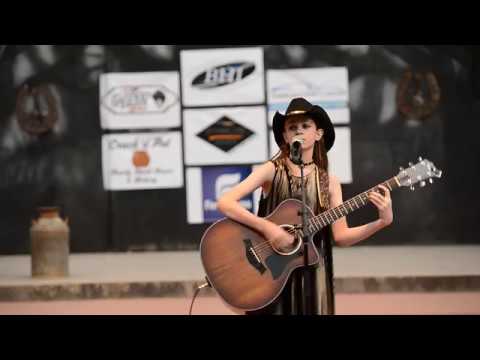 Kenadi has also opened, or sung with, The Swon Brothers, an American country music duo from Muskogee, Oklahoma, who finished in third place on the fourth season of NBC's The Voice in 2013. She opened for them once when they came to Utah to perform, and she traveled to Muskogee to sing with them there.
She did a songwriting workshop with well-known country singer, Jamie O'Neil, and during a concert, she was invited to the stage to perform one of the songs that she wrote. Another Utah country western talent and rising star, Charlie Jenkins, also had her sing in one of his shows. And, Kenadi and her guitar have had two shows at the Days of 47 Rodeo – one performance at the rodeo, and the other at a VIP dinner for those who sponsor the rodeo.
Kenadi's mother, Brandi Dodds, recalls that Kenadi has always been a showman. She remembers that Kenadi used to sing Shania Twain songs while riding in her car seat as a toddler. She told Cache Valley Daily.com, "She would sing what words she could pick out then mix the rest with baby gibberish. She could sing the tune without missing a note." Kenadi's grandmother took her to a Shania Twain concert when she was nine years old. Afterward, she told her mother that is what she wants to do. Shania Twain, the queen of country pop, has become her idol.
When Kenadi was in the first grade she attended the Utah State Youth Conservatory. The instructors were impressed with Kenadi's perfect pitch and urged her parents to work on developing her voice. Her father, Chris Dodds, has been her coach and co-songwriter. To date, she has produced up to nine original tunes and is trying to make the money to put an album of songs together. Her father said, " We are doing all that we can do. We are leaving the rest in God's hands."
You can follow Kenadi Dodds on her social media channels – Facebook, Spotify, Instagram, and YouTube.